Brushless DC Motors - BLF Series
The BLF Series combines the attractive features of a brushless DC motor, such as compact size, high output, flat torque, excellent speed stability and energy-saving design, with exciting new enhancements that include a wider speed range and multi-speed operation. Using the digital operator, you can draw the maximum performance out of the feature-rich BLF Series with ease.
The BLF Series brushless DC motor achieves a maximum motor speed of 4000 r/min and maximum permissible torque of 970 lb-in.

Wide Speed Control Range from 80 r/min up to 4000 r/min
A wide speed control range from 80 to 4000 r/min (speed ratio of 50:1) enables the brushless DC motor to be used in various applications.
Compact yet Powerful
Brushless DC motors have slim bodies and provide high power due to permanent magnets being used in the rotor. For example, the overall length is 2.95 in. (75 mm) shorter and the output power is 1.3 times higher then that of three-phase induction motors with a frame size of 3.54 in. (90 mm). Using brushless DC motors can contribute to downsizing.
Energy Saving
At an output power of 60 W (1/12 HP), the power loss of the BLF Series brushless DC motor is approximately half that of an inverter-controlled AC motor, which contributes to the energy-saving operation of your equipment.
Easy Operation with the Digital Operator
You can perform various settings and operations using the six operation keys on the digital operator.
Multi-Speed Operation Using up to Eight Speeds
Up to eight speeds can be set by digital setting. On the digital operator, the speed can be set in units of 1 r/min and a different acceleration/deceleration time can be set for each speed. Switch the speed according to your needs.
Various Digital Displays
Speed, load factor, alarm code, etc. can be displayed digitally.
(The speed can be displayed as gearhead output shaft speed.)
Speed Teaching Function
The speed adjusted by physically operating the brushless DC motor can be set and stored.
Four Speed Setting Methods
Select one of four speed setting methods according to the condition in which your equipment is used.
A Maximum Motor / Driver Wiring Distance of 65.5 ft. (20 m)
By separating the motor cable and signal cable, the BLF Series is less vulnerable to noise and capable of an extension of the motor/driver wiring distance to a maximum of 65.6 ft. (20 m).
Select connection cables (sold separately) from among eight lengths [3.3 to 65.6 ft. (1 to 20 m)].
Detachable Digital Operator
The digital operator can be detached from the driver and used at a location as far as 16.4 ft. (5 m) away using an accessory remote-control kit (sold separately). Use the digital operator as a handy operation unit or display outside the switch board. (The digital operator conforms to IP65 when the remote-control kit is used.)
IP65 Protection
The brushless DC motor (excluding the mounting surface of the round shaft type and the connector) and digital operator (when an accessory remote-control kit is used) provide a high level of protection conforming to IP65 meaning you can use the BLF Series in locations where the unit may come into contact with water.
NOTE: The BLF Series is not designed for washing directly with water or use in an environment where the unit constantly receives water splashes. The protection class of the driver is IP20.
Uses a Terminal Block for Driver Connection
The driver-end of each cable has terminals, instead of a connector, to make it easy to wire the cable into a switch board.
Full Range of Protective Functions
The BLF Series detects various motor and driver errors such as overload, overvoltage, undervoltage, missing phase, overspeed, overcurrent, EEPROM error, CPU error, operation error and external error. Upon detection of an error, the driver will immediately stop the motor and output an alarm signal.
Sink/Source Logic Switchable
To ensure safety and usability, sink/source logic can be selected by a switch.
Gearing Options
Long Life Gearhead
The high-strength gearhead is designed to withstand high-speed revolutions. The rated life of the gearhead is 10000 hours, which is twice as long as that of our previous gearhead.
Up to 610 lb-in of Torque Possible
[400 W (1/2 HP) Brushless DC Motor with Parallel Shaft Flat Gearhead]
Hollow Shaft Flat Gearhead
Space-Saving and Low-Cost
The output shaft can be coupled directly to your drive shaft without using a coupling. The flexible installation modes, such as installation on either the front or rear face or by using the center shaft, allows you to reduce the size and installation space of your equipment. Since no shaft-coupling parts are needed, the parts cost and assembly man-hours will also decrease.
High Permissible Torque
While the parallel shaft gearhead lets the permissible torque saturate at high gear ratios, the hollow shaft flat gearhead enables the motor torque to be utilized to its maximum capability.
Up to 970 lb-in of Torque Possible
[400 W (1/2 HP) Brushless DC Motor with Hollow Shaft Flat Gearhead]
Product Lineup
Select Motor Frame Size / Power Supply to view available products.

Round Shaft
Brushless DC Motors

Output
Power

Motor Frame Size

Rated
Torque

Speed
Range

30 W
(1/25 HP)

14.2 oz-in
(0.1 Nm)

8 ~ 4000 r/min

60 W
(1/12 HP)


28 oz-in
(0.2 Nm)

56 oz-in
(0.4 Nm)

200 W
(1/4 HP)

92 oz-in
(0.65 Nm)

400 W
(1/2 HP)

184 oz-in
(1.3 Nm)
Output
Power

Power Supply
(VAC)

Rated
Torque

Speed
Range

30 W
(1/25 HP)

3.9 ~ 53 lb-in
(0.45 ~ 6 N·m)
Motor Speed Range:

8 ~ 4000 r/min

Min: 0.4 [200:1]

Max: 800 [5:1]

60 W
(1/12 HP)


7.9 ~ 141 lb-in
(0.9 ~ 16 N·m)
15.9 ~ 260 lb-in
(1.8 ~ 30 N·m)

200 W
(1/4 HP)

25 ~ 610 lb-in
(2.9 ~ 70 N·m)

400 W
(1/2 HP)

52 ~ 610 lb-in
(5.9 ~ 70 N·m)
Output
Power

Power Supply
(VAC)

Rated
Torque

Speed
Range

30 W
(1/25 HP)

3.5 ~ 150 lb-in
(0.4 ~ 17 N·m)
Motor Speed Range:

8 ~ 4000 r/min

Min: 0.4 [200:1]

Max: 800 [5:1]

60 W
(1/12 HP)


7.5 ~ 300 lb-in
(0.85 ~ 34 N·m)
15 ~ 600 lb-in
(1.7 ~ 68 N·m)

200 W
(1/4 HP)

48 ~ 480 lb-in
(5.5 ~ 55.3 N·m)

400W
(1/2 HP)

48 ~ 970 lb-in
(5.5 ~ 110 N·m)
View Products = View all available part numbers for BLF Series Brushless Speed Control Systems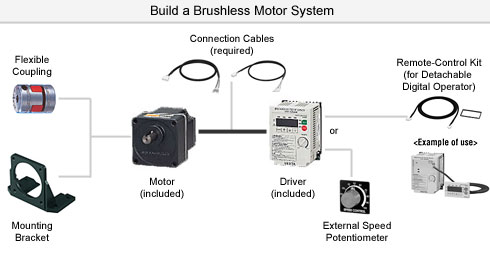 Build a complete system online by selecting your base motor and driver and adding all necessary accessories and/or controller.
Couplings / Brackets

This three-piece coupling adopts an aluminum alloy hub and a resin spider. The simple construction ensures that the high torque generated by a gear motor can be transmitted reliably. The proper elasticity of the spider suppresses motor vibration.

Mounting brackets are convenient for installation and securing a stepping motor or geared stepping motor.
Remote-Control Kit

The remote-control kit is useful if you want to detach the digital operator from the driver and install it on the frame of the equipment, etc. for remote operation. The kit includes a connection cable for digital operator/driver connection and a rubber gasket.
Cables
Connection Cables (*required)

These cables extend the distance between the motor and driver. *The motor includes a 16 in. (400 mm) cable.
External Speed Potentiometer

Potentiometer used for setting the speed control motor.
Technology Training Videos
ORIENTAL MOTOR offers monthly Live Seminars as well as On Demand Training Videos.