Compact Linear Actuators with Built-in Controller (Stored Data Type) - DRLII Series
The DRLII Series of compact linear motion actuators uses a 0.36° or 0.72° stepper motor which incorporates a rolled or ground ball screw. Available with a guide or no guide and combined with a 24 VDC microstepping drivers for extremely precise positioning. Strokes from 25 mm (0.98 in.) up to 50 mm (1.97 in.) depending on frame size.
FLEX is the generic name for products that are used for Factory Automation (FA) network control via I/O control, Modbus (RTU) control, or a network converter. FLEX products enable easy connection, easy control and reduce the complexity of system configuration.
High Positioning Accuracy
The ball screw nut is linked with the hollow rotor. Through the coupling rigidity and other aspects of parts combination, the impact of backlash has been minimized achieving high-precision positioning.
Significantly Reduced Time Required for Design
The compact body houses the entire linear-motion mechanism. The use of conventional internally-produce parts is no longer required, thus reducing the time for equipment design and parts selection. Moreover, this reduces the time required for assembly and increases your production efficiency.
Reliable Design and Structure
The DRLII Series features a structure in which the rotor is hollowed out and the ball screw is stored inside. The rotation of the hollow rotor rotates the ball screw nut and by setting up an anti-spin mechanism* on the tip of the ball screw, the ball screw shaft is moved in a linear manner.
Because the ball screw shaft is stored in the hollow rotor section, the maximum stroke is secured with the shortest overall length. Also, a large bore bearing is positioned on the outer circumference of the ball screw nut in order to directly receive the large thrust loads generated in linear motion.
*Not necessary for the guide type.
Stops Immediately Without Vibration
The DRLII Series compact linear actuators use stepper motors. Because this is a stepper motor, the positioning precision per step is high and the motor can be moved forward and back accurately.
Also, since the fine movement of the shaft (called hunting) does not occur when stopping, the stop position can be held correctly.
Wide Range of Variations
Ground Ball Screw

or Rolled Ball Screw

Ground Ball Screw
Ideal for applications where high positioning accuracy and low vibration are required, such as optical devices and semiconductor systems that use fine-feed pitches. The DRLII ground ball screw type achieves high reliability by maximizing the performance of a 0.36°/0.72° stepper motor.

Rolled Ball Screw
Ideal for general positioning applications where reliability and ease of use are given priority. It combines the superior thrust and resolution of the ground ball screw type with greater ease of use.
Standard or Guide Type
The DRL Series actuators are available in standard or guide types. If you choose standard type, you must provide an external anti-spin mechanism.
Standard Type
Guide Type
High Resolution (0.36°) and

Standard (0.72

°)

Type Motors
The high-resolution motors* achieve high accuracy and reliability based on Oriental motor's latest precision machining technology. The motor resolution is increased to double the level of a standard model to reduce the displacement angle against torque, thereby achieving high position accuracy. Frame sizes of 1.10 in. (28 mm), 1.65 in. (42 mm) and 2.36 in. (60 mm) are available.
In fine-feed operations by microsteps, the actuator will not operate until the initial motor torque exceeds the friction load. The high-resolution motor, with its high output torque, allows the torque to pick up quickly and thereby ensures smooth operation even with fine-feed.
*Ground Ball Screw Type Only
Additional Features
The standard type and guide types are available with an electromagnetic brake and/or adjusting knob as additional functions.
Adjusting Knob
The load position can be adjusted manually when the power is cut off. This function is useful during servicing of the equipment.
Electromagnetic Brake
The load position can be held when the power is cut off. Since the work will not fall in case of power failure or disconnection, you can safely use equipment in which the work moves vertically.
Application Examples
Built-In Controller
1. I/O
Because the positioning unit (pulse generator) function is built in to the driver, you can build an operation system using I/O by directly connecting to a switch box or PLC. Because a positioning unit is not necessary on the PLC side, space is saved and the system is simplified.
Using a Switch Box - Because operating data is set in the driver, the actuator can be started and stopped simply by connecting a switch you have on hand. Control can be performed easily without using PLC.
Using PLC - When using PLC you can build an operation system by connecting directly to an I/O unit. Because a positioning unit is not necessary on the PLC side, space is saved and the system is simplified.
Using PLC and a Touch Screen - Normally, the actuator is started and stopped with I/O. Changing the operating data settings and displaying the monitors and alarms is performed with the touch screen using Modbus (RTU) communication. When there is a lot of setup work, changes can be easily performed on the touch screen, and the burden of creating ladders is reduced.
2. Modbus (RTU) / RS-485
Operating data and parameters can be set and operation commands can be input using RS-485 communication. Up to 31 drivers can be connected to each serial communication unit. Also, there is a function that enables the simultaneous start of multiple axes. The protocol supports Modbus (RTU), enabling connection with devices such as touch-screen panel computers and PCs.
3. Industrial Network
Using a network converter (sold separately) enables support with EtherCAT communication, CC-Link communication, and MECHATROLINK communication. Operating data and parameters can be set and operating commands can be input using various communication methods.
Data Setting and Extended Functions
Because the driver has the information necessary for actuator operation, the burden on the host PLC is reduced. The system configuration when using multi-axis control has been simplified. Settings are configured using a control module (sold separately), data setting software or RS-485 communication.
Operation Types
In the built-in controller type, the operating speed and traveling amount of the actuator are set with operating data, and operation is performed according to the selected operating data.
There are 4 operation types.
Group Transmission Function (via RS-485 communication or network converter)
You can configure a group of multiple axes connected using RS-485 communication and send commands by group. You can also perform simultaneous operation for multiple axes.
PLS-OUT Output Function
Synchronous Operation Possible
This outputs signals with the same number of pulses and pulse speed as the command value.
The PLS-OUT signal and DIR-OUT signal (rotation direction signal) can be input to another driver to drive the actuator for another axis.
Used for Position Count
The command position to the actuator can be checked by counting the output signals.
Teaching Function
Teaching can be performed using the OPX-2A control module (sold separately) or the MEXE02 data setting software. Move the table to the target position and store the position data at this time as the positioning data.
Product Lineup
View Products = View all DRLII Series Compact Linear Actuators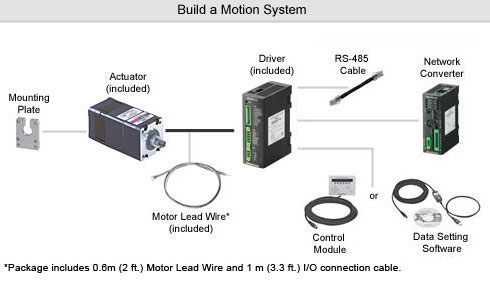 Mounting Plate

A dedicated mounting bracket for installation of the DRL Series actuator. Each mounting plate comes with mounting screws for fastening the actuator to the plate.
Control Options
Using either the optional control module or data setting software you can change parameters, add functions and perform various monitoring operations according to the needs of your system.

Cable for Data Setting Software (CC05IF-USB)*

This communication cable is required for connecting to the
computer on which the data setting software is installed.
*One FREE CC05IF-USB communications cable is available per customer, contact Technical Support for more information.

These cables are used to link drivers when a built-in controller type is being operated in a multi-drop manner.
Motor Lead Wire*

These lead wires with connectors are available for connecting the DRL20 and high-resolution models.
*A motor lead wire of 2 ft. (0.6 m) is included with the motor and driver package.
Extension Cable

These extension cables are used between the actuator and driver. Keep the wiring distance between the actuator and driver to 32.8 ft. (10 m) max.
Network Converter

Network converter is a transducer from the host communication protocol to our unique RS-485 communication protocol. By using this network converter, our RS-485 compatible products can be controlled under host communication environment.



Technology Training Videos
ORIENTAL MOTOR offers monthly Live Seminars as well as On Demand Training Videos.