Because of its integral-structure inner block consisting of a highly rigid outer rail with a U-shaped cross section, LM Guide units on both side faces and a Ball Screw unit in the center, LM Guide Actuator model KR achieves a highly rigid and highly accurate actuator in a minimal space. In addition, since the housings A and B also serve as support units and the inner block as a table, this model allows signifi cant reduction of man-hours required for design and assembly, thus contributing to total cost cutting.
4-way Equal Load
Each row of balls is arranged at a contact angle of 45° so that the rated load on the inner block is uniform under loads applied to the inner block in the four directions (radial, reverse radial and lateral directions). As a result, model KR can be used in any mounting orientation.
Load Ratings
Model KR basic load ratings are equal in all four directions.
Seal
Model KR is equipped with end seals and side seals for dust prevention as standard.
High Rigidity
Use of an outer rail with a U-shaped cross section increases the rigidity against a moment and torsion.
High Accuracy
Since the linear guide section consists of 4 rows of circular-arc grooves that enable balls to smoothly move even under a preload, a highly rigid guide with no clearance is achieved. Additionally, variation in frictional resistance caused by load fluctuation is minimized, allowing the system to follow highly accurate feed.
3 Types of Accuracy Grades Available:
Normal Grade: ±0.01 mm
High Accuracy Grade: ±0.005 mm
Precision Grade: ±0.003 mm
Product Lineup
Model
Frame Size
(mm)
Ball Screw
Grade
Stroke
(mm)
Lead
(mm)
Max. Input
Torque (N·m)
Max. Input
Speed (r/min)
KR20 Type
20 x 40
Normal, High Accuracy and Precision
30, 80, 130
1
0.207
6000
KR26 Type
26 x 50
Normal, High Accuracy and Precision
60, 110, 160, 210
2
0.622
6000
KR33 Type
33 x 60
Normal or
High Accuracy
50, 100, 200, 300,
400, 500, 600
6 or 10
1.244
4700
View Products = View all THK Linear Actuators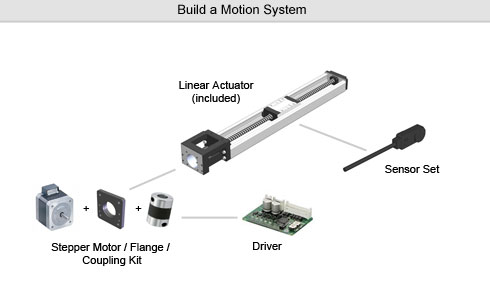 Sensor Set

Optical proximity sensors for use with the THK linear actuators. Mounts to the dedicated sensor rail on the linear actuator.
Stepper Motor / Flange / Coupling Kits
1.8° or 0.9° 2-Phase Bipolar Stepper Motors
The PKP Series 2-phase stepper motors packages offer exceptional performance with low vibration. Available with a 1.8° or 0.9° step angle, standard or with a 200 / 400 line, 3 channel encoder or with an electromagnetic brake for vertical, load holding applications.
NOTE: Do not exceed the Maximum Input Torque for Actuator
Encoder Option
Oriental Motor offers two types of encoders, Incremental or Line Driver. The R2_ & R2_L are Oriental Motor's original encoders and are all 3 channel, 200 or 400 line encoders.
Electromagnetic Brake Type
These products have built-in power off activated electromagnetic brakes. When power is accidentally cut off due to a blackout or other unexpected events, the electromagnetic brake holds the load in position to prevent it from dropping or moving. Also, when the motor is at standstill, it is held by the electromagnetic brake. It is possible to suppress the heate generated from the motor by turning off the motor current.
Oriental Motor high-performance, 2-phase bipolar stepper motor drivers offer advanced features, high torque and smooth motion in one of the industry's smallest microstepping drivers.