Short-Range Servo Motor and Driver Packages -
Battery-Free, Mechanical Absolute Encoder AZ Series (Built-in Controller)
The AZ Series offers closed loop control, substantially reduces heat generation from the motor and by incorporating the newly developed Mechanical Absolute Encoder, absolute-type positioning is available, without battery back-up or external sensors to buy. Advanced operation and function control is also included through our MEXE02 software (free download). The AZ Series can perform quick positioning operations over a short distance while providing smooth performance.
FLEX is the generic name for products that are used for Factory Automation (FA) network control via I/O control, Modbus (RTU) control, or a network converter. FLEX products enable easy connection, easy control and reduce the complexity of system configuration.
The AZ Series:
1.65 in. (42mm) and 2.36 in. (60 mm) frame sizes
Wide range of gear options and electromagnetic brake
Single-Phase 100-120 VAC, Single-Phase / Three-Phase 200-240 VAC.
All packages include a 9.8 ft. (3 m) motor cable.
Advanced Technology at Affordable Prices
Oriental Motor has developed and patented a compact, low-cost, battery-free mechanical type absolute sensor. The AZ Series is available at affordable prices and can contribute to improved productivity and cost reductions.
Driver Features
The AZ Series driver features a dedicated Emergency Switch Cut-Off, Emergency Torque Off (ETO) Function.
Also, a standard USB cable can be used to connect to a PC.
Newly Developed Mechanical Absolute Encoder
Mechanical-Type Encoder (No Battery Required)
A mechanical encoder composed of multiple gears is employed. Positioning information is detected by recognizing the angle of the individual gears. As a result, it does not require a battery.
Multiple-Rotation Absolute System
Absolute position detection is possible with ±900 rotations (1800 rotations) of the motor shaft from the home position.
Home Setting Method
The home position can be easily set by pressing a switch on the drivers surface, which is saved by the Mechanical Absolute Encoder. In addition, home setting is possible with the MEXE02 data setting software or external input signal.
No External Sensors Required
Positional information is managed mechanically. External sensors such as home sensor and the limit sensor are not needed.
Reduced Cost
Sensor costs and wiring costs can be reduced, allowing for lower system costs.
Simple Wiring
Wiring is simplified and the degree of freedom for equipment design is increased.
Not Affected by Sensor Malfunctions
There is no concern about sensor malfunctions (when operating in environments filled with oil mist or filled with metal pieces due to metal processing), sensor failures or sensor wire disconnections.
Improved Return-to-Home Accuracy
Home position accuracy is increase because the return-to-home operation is performed regardless of any variations in home sensor sensitivity.
Shortened Reset Time - High Speed Return-to-Home
Because return-to-home is possible without an external sensor, return-to-home can be performed at high speed without taking the sensor sensitivity into account, allowing for a shortened machine cycle.
Shortened Reset Time - Return-to-Home is Not Necessary
Even if the power shuts down during a positioning operation, the positioning information is retained. Furthermore, for built-in controller types, positioning operations can restart without performing a return-to-home operation when recovering from an emergency top of the production line or a blackout.
No Battery Required
No battery is required thanks to a mechanical-type sensor. Because positioning information is managed mechanically by the Mechanical Absolute Encoder, the positioning information can be preserved, even if the power turns off, or the cable between the motor and the driver is disconnected.
Reduced Maintenance
Because there is no battery that needs replacement, maintenance time and costs can be reduced.
Unlimited Driver Installation Possibilities
Because there is no need to secure space for battery replacement, there are no restrictions on the installation location of the driver, improving the flexibility and freedom of the layout design of the control box.
Safe for Overseas Shipping
Normal batteries will self-discharge, so care must be taken when the equipment requires a long shipping time, such as when being sent overseas. The Mechanical Absolute Encoder does not require a battery, so there is no limit to how long the positioning information is maintained. In addition, there is no need to worry about various safety regulations, which must be taken into consideration when shipping a battery overseas.
Position Holding Even when the Cable between the Motor and Driver is Detached
Positioning information is stored within the Mechanical Absolute Encoder.
*Because the positioning information is stored in the Mechanical Absolute Encoder, the home position must be reset if the motor is replaced.
High Reliability
High Reliability is provided by using the control method unique to Oriental Motor that combines the merits of both open loop control and closed loop control.
Continues Operation Even with Sudden Load Fluctuation and Sudden Acceleration
In normal conditions, it operates synchronously with pulse commands under open loop control, and because of its compact size and high torque generation, it has excellent acceleration performance and response. In an overload condition, it switches immediately to closed loop control to correct the position.
Alarm Signal Output in Case of Abnormality
If a continuous overload is applied, an alarm signal is output. Also, when the positioning is completed, a signal is output. This provides high reliability.
No Tuning Required
Because it is normally operated with open loop control, positioning is still possible without gain tuning even when the load fluctuates due to the use of a belt mechanism, cam or chain drive, etc.
Holding the Stop Position
During positioning, the motor stops with its own holding force without hunting. Because of this, it is ideal for applications where the low rigidity of the mechanism requires absence of vibration upon stopping.
Energy Saving
Heat generation is reduced thanks to the high efficiency motor, resulting in energy savings.
Lower Heat Generation
Heat generation by the motor has been significantly reduced through higher efficiency.
47% Less Power Consumption* than Conventional Oriental Motor Products Due to Energy-Saving Features
Gear Options
Oriental Motor offers geared motors; motor and gearhead pre-assembled. Based on torque, accuracy (backlash) and list price, the optimal type can be selected from the various geared motors.
Built-in Controller (Stored Data Type) Package
With the built-in controller type, the operating data is set in the driver and is selected and executed from a host system. Host system connection and control are performed with ; I/O, Modbus (RTU) / RS-485 or FA network.
By using a network converter (sold separately), CC-link, MECHATROLINK or EtherCAT communication are possible. Operating data, parameter settings and operation commands can be input via various communication types. Its ability to accommodate the network being used results in shortened design time.
Equipped with an Interface that Connects to Various Master Control Systems
FLEX is the generic name for products that are used for Factory Automation (FA) network control via I/O control, Modbus (RTU) control, or a network converter.
FLEX products enable easy connection, easy control, and reduce the complexity of system configuration.
Product Lineup
Select your package based on the Driver Power Supply.
Motor and driver package includes 3 m (9.8 ft.) motor cable. Different lengths and flexible cables are available separately.
Select Motor Frame Size / Driver Power Supply below.
View Products = View all available part numbers for AZ Series Stepper Motor and Driver Systems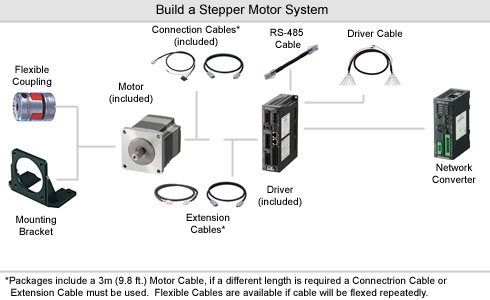 Build a complete system online by selecting your base motor and driver and adding all necessary accessories and/or controller.
Control Options
Using the available data setting software you can change parameters, add functions and perform various monitoring operations according to the needs of your system. (See Extended Functions)
*Uses standard USB cable (not supplied)
Couplings / Brackets

This three-piece coupling adopts an aluminum alloy hub and a resin spider. The simple construction ensures that the high torque generated by a gear motor can be transmitted reliably. The proper elasticity of the spider suppresses motor vibration.

Cables / Connectors
Motor Connection / Extension Cables
The AZ Series includes a 9.8 ft. (3m) cable for connecting the motor and driver. If a different length is needed a Motor Cable or Extension Cable must be used.
Standard Type
Electromagnetic Brake Type

This is a shielded cable equipped with a half-pitch connector at one end of the cable that snaps onto the driver. The other end is laminated lead wires aligned in order at a pitch of 0.05 in. (1.27 mm), which is convenient for insulation displacement connectors.
Mounting brackets are convenient for installation and securing a stepper motor or geared stepper motor.

Network Converter

Network converter is a transducer from the host communication protocol to our unique RS-485 communication protocol. By using this network converter, our RS-485 compatible products can be controlled under host communication environment.



RS-485 Communication Cable
This cable is used to link drivers when a built-in controller type is being used in a multi-drop manner.

Technology Training Videos
ORIENTAL MOTOR offers monthly Live Seminars as well as On Demand Training Videos.
To view the On Demand Videos you will need register or log in to your MyPage account above.
Related Seminar Videos