Stepper Motor and Driver with Built-in Controller (Stored Data Type) - RKII Series
The RKII Series with Built-in Controller is a high performance energy saving stepper motor and driver / controller (stored data) package with a great low price. To achieve constant maximum torque output with low heat generation and save energy, the stepper motor and driver losses have been substantially reduced allowing to be operated for longer hours at high speed, which is not possible with conventional stepper motors and drivers. With simple wiring featuring screw-less connectors and side by side driver mounting, installation is easy and saves space.
FLEX is the generic name for products that are used for Factory Automation (FA) network control via I/O control, Modbus (RTU) control, or a network converter. FLEX products enable easy connection, easy control and reduce the complexity of system configuration.
Choose from the round shaft motor type or our Spur, Planetary or Harmonic geared types in three frame sizes; 1.65 in. (42 mm), 2.36 in. (60 mm) and 3.35 in. (85 mm) [3.54 in. (90 mm)]. Also included is a 3 m (9.8 ft) cable(s).

Lower Heat Generation
By utilizing high-efficiency technology to reduce the stepper motor heat, reduced motor running temperatures are possible. In addition, reduction of heat output means less reliance on cooling fans and heat sinks.
High Efficiency
With conventional stepper motors in applications where heat generation had to be suppressed, the running current had to be reduced, which also reduces torque. With the RKII Series, thanks to its low heat generation and highly efficient motors, the motor torque can be used fully to maximize performance.
Space Saving Driver
The new RKII Series stepper motor driver was created by re-arranging the internal components and optimizing the usage of the space within the driver. The result, drivers can be installed side-by-side, reducing a significant amount of space.
*Note: When drivers are installed in contact with each other, the allowable ambient temperature range is +32° ~ +104°F (0 to 40°C).
High Torque
The RKII Series stepper motor is compact and produces high torque. The torque of the 1.65 in. (42 mm) frame size has increased 50%. This contributes to increased performance and faster move times. The series includes 2.36 in. (60 mm) and 3.35 in. (85 mm) frame sizes to cover a wide torque range.
*Note: The 2.36 in. (60 mm) and 3.35 in. (85 mm) frame size models, the torque is equivalent to the conventional models.
Resolution Setting
For built-in controller type, the value can be set between 200 p/rev ~ 200,000 p/rev. Setting can be done by a control module (sold separately), data setting software or RS-485 communication.
Low Vibration
Utilizing a full-time microstepping driver controlled by a digital system improves the vibration characteristics of the 0.72° stepper motor. Current control is also done by a high specification digital CPU. This model uses PWM control instead of PAM control resulting in a sinusoidal wave form in each phase, significantly reducing vibration.
Easy Wiring
The new I/O connector does not require a screw and also eliminates the need for soldering or a special crimping tool. The motor connector can be connected easily by using a dedicated cable. This will reduce wiring time, maintenance and prevent mis-wiring.
High Accuracy
Positioning accuracy of the RKII Series is ±0.05° (±3 arc min). When the RKII Series is used with a ball screw as shown below, the stopping accuracy becomes ±0.000055 in. (±0.0014 mm). The accuracy of the normal ground ball screw is ±0.00039 in. (±0.01 mm), thus the accuracy is high enough for positioning operation.
Reduced Power Consumption
By optimizing the stepper motor material, up to 47% of the power consumption has been reduced. This results in the reduced consumption of electricity and CO2 emission.
Protective Functions
Many types of protection functions are integrated into the driver. A blinking LED (blink count determines alarm type) indicates when an alarm is triggered.
Encoder Models
Encoder installed models make it possible to monitor the present position and detect for errors.
Positioning Monitor
This feature can be used to detect the position of the motor. For instance, to confirm normal operations, compare commanded position to the actual position.
Return-to-Home Operation by Using Z-phase Signal
Z-phase signal can be utilized for the return-to-home operation. Using Z-phase signal, the return-to-home point will be detected with higher accuracy than single use of the return-to-home sensor.
Detecting for Errors
The encoder will compare command position and encoder-count. If deviation exceeds the set value, a STEPOUT signal will be output. Positional errors due to rapid changes in load can be detected. An alarm signal for abnormality in deviation is also available.
Geared Stepper Motors
Geared stepper motors offered by Oriental Motor come pre-assembled. Use the quick reference chart for performance and price.
TS Spur Geared Type Stepper Motor
This geared type is made with a simple spur gear design. The torque and speed have been improved.
Because of its high accuracy, this type has the same level of accuracy when compared to our tapered (TH) type without the added cost of tapering.
Torque and Speed are Improved (compared to conventional model types)
The TS geared type realizes the improvement of permissible torque and at the same time, it can exert its maximum torque. The rated input speed is increased to 3000 r/min and the permissible speed range of the output shaft has been significantly increased as well. The geared stepper motor allows for higher torque and shortens the time for positioning, because the maximum torque range can be used for acceleration / deceleration.
PS Planetary Geared Type Stepper Motors
The PS gear mechanism is comprised primarily of a sun gear, planetary gears and an internal tooth gear. The planetary gears design allow for higher output torque.
There are gears inside used to distribute torque, which allows for higher torque than a spur gear design. The PS gear uses a higher accuracy gear design which provides for a lower backlash when compared to a spur gear design.
Reduced Backlash (compared with conventional model types)
Optimal design of gears reduced backlash (Except for 1.65 in. (42 mm) frame size.
Positioning with higher accuracy is possible.
HS Harmonic Geared Type Stepper Motors
The mechanical life, permissible torque and maximum torque are improved (compared with conventional models).
Improved Rate Life (Twice the length of conventional models)
The rate life has been increased from 5,000 hours (conventional model) to 10,000 hours.
[Except for 1.65 in. (42 mm) frame size]
High Torque
With more permissible and maximum torque available, more load can be handled with the same size geared stepper motor.
Surface Installation of Load is Available
This type permits installation of load directly on the rotating surface integrated with the shaft
[Except for 3.54 in. (90 mm) frame size]
Advantages of Geared Stepper Motors
Using geared stepper motors provides many advantages, such as speed reduction, high torque and high resolution.
The Motor Can Drive a Large Inertial Load
If compared with a standard stepper motor, the geared stepper motors can drive larger inertial loads because its permissible load moment of inertia increases with the square of the reduction ratio. This means that larger inertial loads can be driven with geared stepper motors.
Improved Damping Characteristic at Start and Stop
If the inertial load is large or acceleration / deceleration time is short, a geared stepper motor can reduce damping more effectively and thereby ensure more stable driving compared to a standard stepper motor. Geared stepper motors are ideal for applications where large inertia such as an index table or arm must be driven to perform quick positioning.
High Rigidity, Resistant to Torsional Force
Geared stepper motors have high rigidity and are therefore resistant to torsional force. Therefore compare to standard stepper motors, geared stepper motors are less subject to load torque fluctuation. This means that stability and high positioning accuracy can be ensured even when the load size changes.
Downsizing
If comparing the standard stepper motor and the geared stepper motor which have similar holding torque, the setting angle of the geared stepper motor is smaller than the standard stepper motor. Geared stepper motors are effective when the equipment must be kept small and light.
Equipped with an Interface that Connects to Various Master Control Systems
FLEX is the generic name for products that are used for Factory Automation (FA) network control via I/O control, Modbus (RTU) control, or a network converter.
FLEX products enable easy connection, easy control, and reduce the complexity of system configuration.
Built-in Controller (Stored Data Type) Package
How to Connect
1. I/O
The function of a built-in pulse generator lets you build an operation system by connecting directly to a PLC. Since no separate pulse generator is required, the drivers of this type saves space and simplifies systems.
2. Modbus (RTU)/RS-485
Through RS-485 communication you can set operating data and parameters and input operation commands. A maximum of 31 drivers can be connected to one serial module. There is also a function for simultaneously starting multiple axes. The module supports the Modbus (RTU) protocol, which makes it easy to connect a PLC or similar device to the driver.
3. FA Network
By using a Network Converter (sold separately), CC-Link, MECHATROLINK or EtherCAT communication is possible. Over these links, operating data and parameters can be set, and operation commands can be sent to the driver.
Programming the Driver
The burden on the programmable PLC is reduced because the information necessary for motor operations is built into the driver. This simplifies the system configuration for multi-axis control. Set the data easily with control module (sold separately), data setting software or via RS-485 communication.
I/O Control
Network Control
Modbus (RTU) Control
Group Sending Function
The group sending function simultaneously starts the multi-axes via Modbus (RTU) or FA network.
Send operation command to the main driver, other drivers in the same group will start operation simultaneously.
Modbus (RTU): Simultaneous start, change in distance, velocity and monitoring
FA Network: Simultaneous start only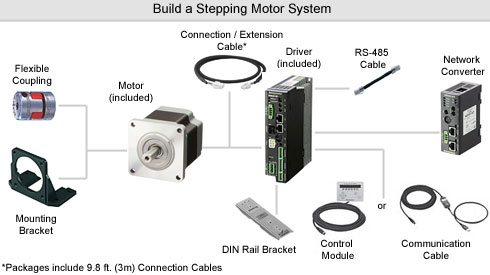 Build a complete system online by selecting your base motor and driver and adding all necessary accessories and/or controller.
Control Options
Using either the optional control module or data setting software you can change parameters, add functions and perform various monitoring operations according to the needs of your system.

Cable for Data Setting Software (CC05IF-USB)*

This communication cable is required for connecting to the
computer on which the data setting software is installed.
*One FREE CC05IF-USB communications cable is available per customer, contact Technical Support for more information.
Cables / Connectors
Motor Connection / Extension Cables

These cables are used to connect or extend the distance between the motor and driver. The motor includes a 9.8 ft. (3 m) cable.
Use a flexible motor cable if the motor is installed on a moving part or its cable will be flexed.
RS-485 Communication Cable
This cable is used to link drivers when a built-in controller type is being used in a multi-drop manner.

Driver Cable
General-purpose multi-conductor cable which is convenient for connection between the driver and host controller.
Couplings / Brackets

This three-piece coupling adopts an aluminum alloy hub and a resin spider. The simple construction ensures that the high torque generated by a gear motor can be transmitted reliably. The proper elasticity of the spider suppresses motor vibration.

Mounting brackets are convenient for installation and securing a stepper motor or geared stepper motor.

Use to mount the driver on DIN rail.
Network Converter

Network converter is a transducer from the host communication protocol to our unique RS-485 communication protocol. By using this network converter, our RS-485 compatible products can be controlled under host communication environment.