1-800-GO-VEXTA (468-3982)
Rotary Actuators
> DGII Series Closed Loop, Absolute Encoder Hollow Rotary Actuators
DGII Series Closed Loop Hollow Rotary Actuators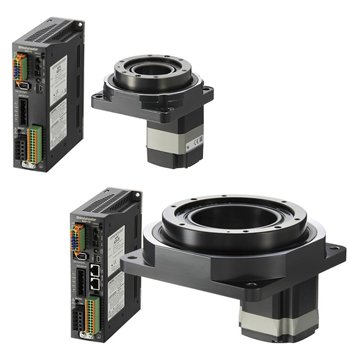 DGII Series Closed Loop AZ Series Absolute Encoder Hollow Rotary Actuators
The DGII Series is a line of of products that combine a high rigidity hollow rotary table with an absolute encoder AZ series closed loop stepper motor and driver package. It retains the ease of use of a stepper motor, while also allowing for highly accurate positioning of large inertia loads.
Integrated actuator and stepper motor makes design easier
Easy Home Setting and Return-to-Home without need for sensors
Large-diameter hollow output table
Stepper motor provides excellent performance

Agile responsiveness
Stability at low speeds
Tuning-free

Pulse Input or Built-in Controller (Network) type drivers

Mechanical Absolute Encoder
Rotary Actuator Lineup
Frame Size

Driver Type

Power Supply

Options

Permissible
Torque

Permissible Speed

Permissible Moment Load

85 mm (3.35 in.)
Rotary Actuator

Single-Phase 100-120 VAC

Electromagnetic Brake

4.5 N·m

39.8 lb-in

200 r/min

10 N·m

88 lb-in

Single-Phase 200-240 VAC

Single-Phase 100-120 VAC

Single-Phase 200-240 VAC

130 mm (5.12 in.) Rotary Actuator

Single-Phase 100-120 VAC

Electromagnetic Brake

12 N·m

106 lb-in

200 r/min

50 N·m

440 lb-in

Single-Phase 200-240 VAC

Single-Phase 100-120 VAC

Single-Phase 200-240 VAC

200 mm (7.87 in.)
Rotary Actuator

Single-Phase 100-120 VAC

Electromagnetic Brake

50 N·m

440 lb-in

110 r/min

100 N·m

880 lb-in

Single-Phase 200-240 VAC

Single-Phase 100-120 VAC

Single-Phase 200-240 VAC
Repetitive Positioning Accuracy = ±15 arcsec (±0.004°)
Lost Motion = 2 arcmin (0.033°)
Hollow Rotary Actuators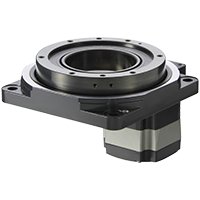 High Positioning Accuracy
Non-Backlash
Repetitive Positioning Accuracy ±15 sec
Lost Motion 2 arc minutes
Note: The repetitive positioning accuracy is measured at a constant temperature (normal temperature) under a constant load.
Large-Diameter, Hollow Output Table Makes Simple Wiring and Piping Possible
The large diameter hollow hole (through-hole) helps reduce the complexity of wiring and piping, thus simplifying your equipment design.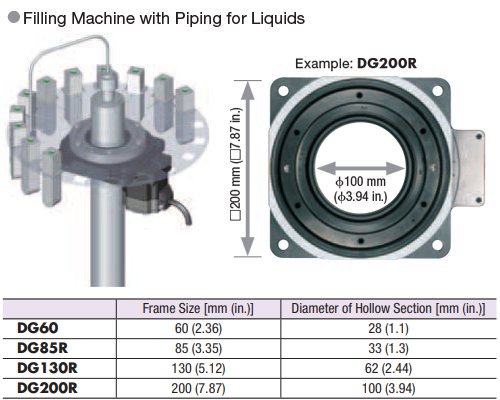 Contributes to Easier Equipment Design
The gear-reduction mechanism employs precision gears along with a proprietary adjustment mechanism that eliminates backlash. The repetitive positioning accuracy from a single direction is ±15 sec., while lost monition in a positioning operation from two directions is 2 arc minutes. These characteristics make the DGII series the ideal choice for applications in which accurate positioning is a must.

High Power and Rigidity
The hollow output table is integrated with a high rigidity crossroller bearing*. The structure improves permissible thrust load and moment load while maintaining high torque.
The output table uses deep-groove ball bearings (two pieces) for the 2.36 in. (60 mm) frame size type, and a cross-roller bearing for the 3.35 in. (85 mm), 5.12 in. (130 mm) and 7.87 in. (200 mm) frame size types. As the frame size increases, the permissible moment load also increases but the displacement caused by the moment load decreases.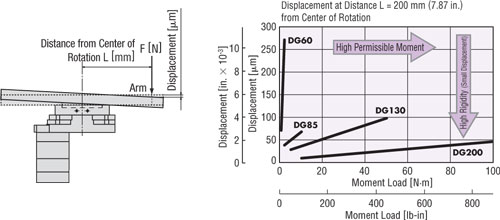 Direct Coupling for Higher Reliability
Equipment tables and arms can be installed directly on the output table. This saves you the hassle and cost of designing an installation mechanism, arranging necessary parts, adjusting the belt tension, etc. when mechanical parts such as belt and pulley are used for installation.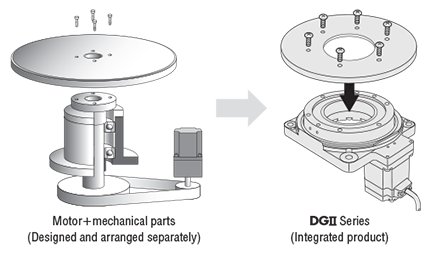 Because of Absolute System, Easy Home Setting and Return-to-Home is Possible
No Return-to-Home Sensor Required
Because it is an absolute system, no home sensor is necessary.
Reduced Costs
Sensor and wiring costs can be reduced, leading to overall lower system costs.
Not Affected by Sensor Malfunctions
There is no concern about sensor malfunction, sensor failure, or sensor wire disconnection.
Improved Return-to-Home Accuracy
Return-to-home is carried out without any concern over variation in home sensor detection, which can improve home accuracy.
*If no limit sensor is installed, driver software limits are used to prevent operation when a limit is exceeded.
Easy Home Setting
By pressing the switch on the driver surface, home position can be set simply, and the home position can be saved with the sensor. Furthermore, it is possible to set the home position using the data setting software (MEXE02) or the external input signal.

High-Speed Return-to-Home
Since return-to-home is possible without the use of a home sensor, return-to-home is carried out at high speed without any concern over sensor sensitivity, which can shorten the machine cycle.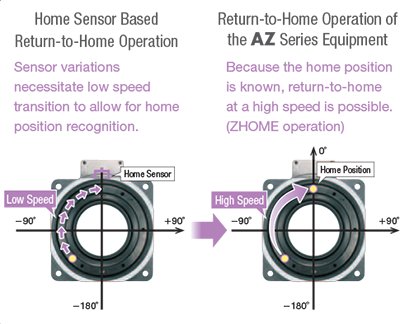 Return-to-Home Not Required
The position information s retained even if the power shuts off during positioning. Furthermore, if the built-in controller type is being used, positioning is restarted without return-to-home when the power is restored after a power outage or an emergency top on the production line.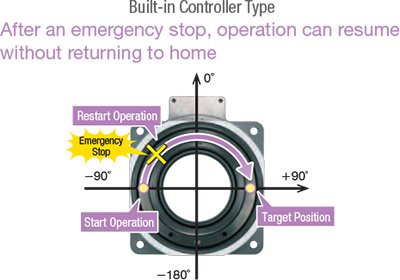 The Mechanical Sensor does not Need a Battery
Battery-Free
The sensor is mechanical, thus it doesn't require a battery. Since position information is mechanically managed by the absolute sensor, positioning information can be retained even if there is a power outage or the cable between the motor and driver is disconnected.
Reduced Maintenance
Because there is no battery that needs replacement, maintenance time and costs can be reduced.
Unlimited Driver Installation Possibilities
Because there is no need to secure space for battery replacement, there are no restrictions on the installation location of the driver, improving the flexibility and freedom of the layout design of the control box.
Safe for Long Distance Shipping
Ordinary batteries self-discharge, thus caution is required for long-term transportation, such as overseas shipping. The motor sensor is battery-free, thus there are no restrictions on the retention of positioning information. This also means that there are no concerns about shipping regulations for batteries when exporting.
Position Retention Even if the Cable Between the Motor and Driver is Disconnected
Positioning Information is retained in the motor sensor.
Useful Functions Thanks to the Built-in AZ Series
Convenient Operation & Setting
By using the AZ Series functions, the hollow rotary actuator's output table coordinates are managed and the following operations become possible.
Short-Cut Operation Reduces Takt Time
This is an operation method that drives the equipment in the rotation direction, providing the shortest distance to the target position that has been set. It can reduce the amount of takt time for the equipment.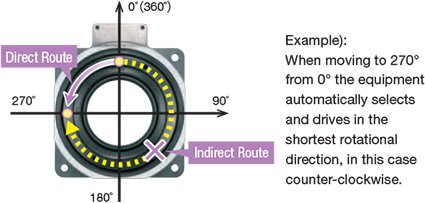 Easy Control by Setting No-Entrance Areas
If there are dangerous or damaging items on the equipment, it is possible to set an area into which the output table cannot be moved.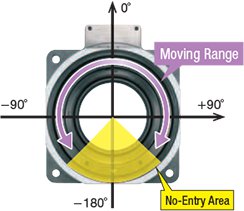 Reduced Equipment Setup Time
The parameters necessary to operate the hollow rotary actuator are set at the time of shipment, which contributes to reduce equipment setup time.
Home Position
Resolution Setting (0.01°/step)
Output Table Rotation Direction Setting
Round Setting ±180°
All of the initial settings can be changed.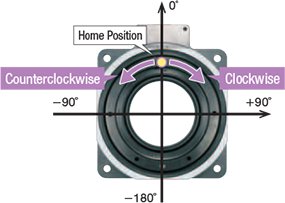 Built-in Controller (Network) Type Driver
Built-in Controller (Stored Data Type) Driver
With the built-in controller type, the operating data is set in the driver and is selected and executed from a host system. Host system connection and control are performed with ; I/O, Modbus (RTU) / RS-485 or FA network.

Equipped with an Interface that Connects to Various Master Control Systems

FLEX is the generic name for products that are used for Factory Automation (FA) network control via I/O control, Modbus (RTU) control, or a network converter.
FLEX products enable easy connection, easy control, and reduce the complexity of system configuration.

By using a network converter (sold separately), CC-link, MECHATROLINK or EtherCAT communication are possible. Operating data, parameter settings and operation commands can be input via various communication types. Its ability to accommodate the network being used results in shortened design time.
Program Simplification with Easy Sequence Function
Sequence control program simplification is possible with the built-in controller type by incorporating output signals for controlling other devices and external input signals, such as sensors.
The built-in controller type driver can set and execute independently, up-to 256 items of operating data, such as motor speed and index length. With the sequential control, it is possible to form a simple system without a master controller. This is ideal for index and return operations or aligned transportation, such as lifespan or durability tests.
Number of positioning operation data settings (up to 256 data settings)
Number of general-purpose input/output points (9 input points, 6 output points)
Number of input/output points for communication (16 input points, 16 output points)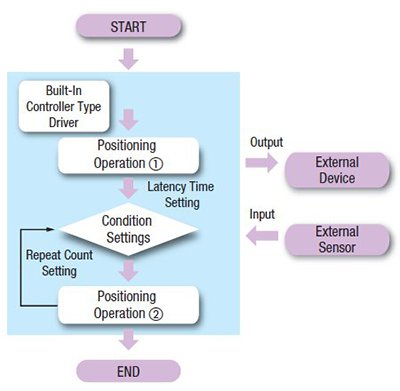 Extended Functions
Easy Setting and Easy Driving
Unit Setting Wizard
This is a function that allows the traveling amount, speed, etc. to be displayed and input in the designated units. It can be easily set by following the directions displayed on the screen.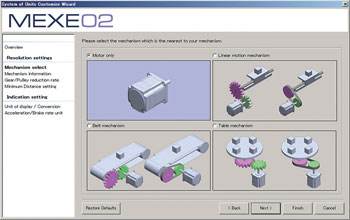 Teaching and Remote Operation
Data setting software can be used to perform the home setting and also drive the motor. This can be used for teaching or test drive purposes.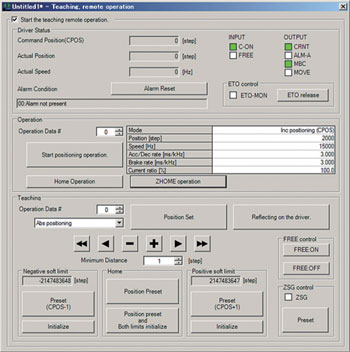 Monitoring Function
I/O Monitoring
The status of the I/O wired to the driver can be checked on a computer. This can be used for post-wiring I/O checks or I/O checks during operation.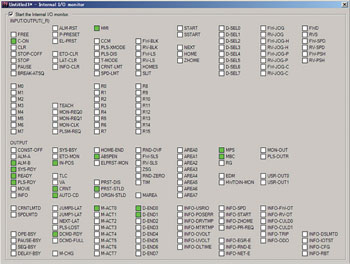 Waveform Monitoring
The operating status of the motor (such as command speed and feedback speed), can be checked by an oscilloscope-like image. This can be used for equipment start-up and adjustment.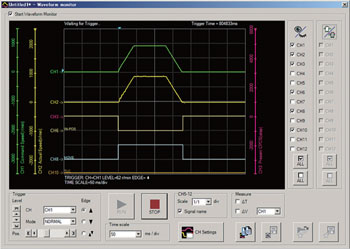 Alarm Monitoring
When an abnormality occurs, the details of the abnormality and the solution can be checked. Because the solution can be checked it is possible to respond to abnormalities quickly.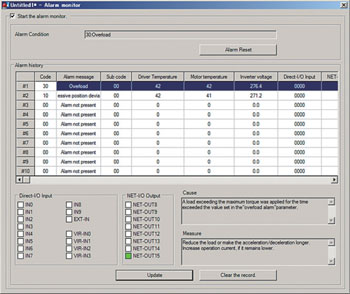 Network Gateways
The communication protocol of the master controller, Factory Automation (FA) network, is converted to Oriental Motor's own RS-485 communication protocol. Connection to Oriental Motor's network compatible products is completed with one RS-485 communication cable.
Compatible Networks:
CC-Link, MECHATROLINK-II, MECHATROLINK-III, EtherCat
*For use with Stored Data (Network) type


SCX11 Universal Controller
The SCX11 is a highly-functional and sophisticated controller equipped with program editing and execution functions. Use the SCX11 as a stored program controller to connect to any of Oriental Motor's standard pulse input drivers. The SCX11 is also able to control the motor via serial communications such as USB, RS-232C and CANopen.
*For use with Pulse Input Type driver.
RS-485 Communication Cable
These cables are used to link drivers when a built-in controller type is being operated in a multi-drop manner.
*For use with Stored Data (Network) type
| | | |
| --- | --- | --- |
| Item | Length | Applicable Product(s) |
| | 0.82 ft. (250 mm) | AC Input |
Control Options - Data Setting Software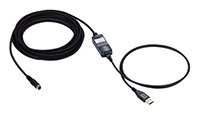 This communication cable is required for connecting to the computer on which the data setting software is installed.
*One FREE CC05IF-USB communications cable is available per customer, contact Technical Support for more information.
Cables

These cables are used to connect or extend the distance between the motor and driver.
Required (sold separately).
Use a flexible motor cable if the motor is installed on a moving part or its cable will be flexed.
Home Sensor Set

A home-sensor set, which consists of a photomicro sensor, connector with cable, sensor mounting bracket, shielding plate and mounting screws, is provided to facilitate easy return to home operation.
Available in NPN or PNP sensor output.
Item

Sensor
Output

Applicable
Product

NPN

DG85
DG130
DG200

PNP
System Configuration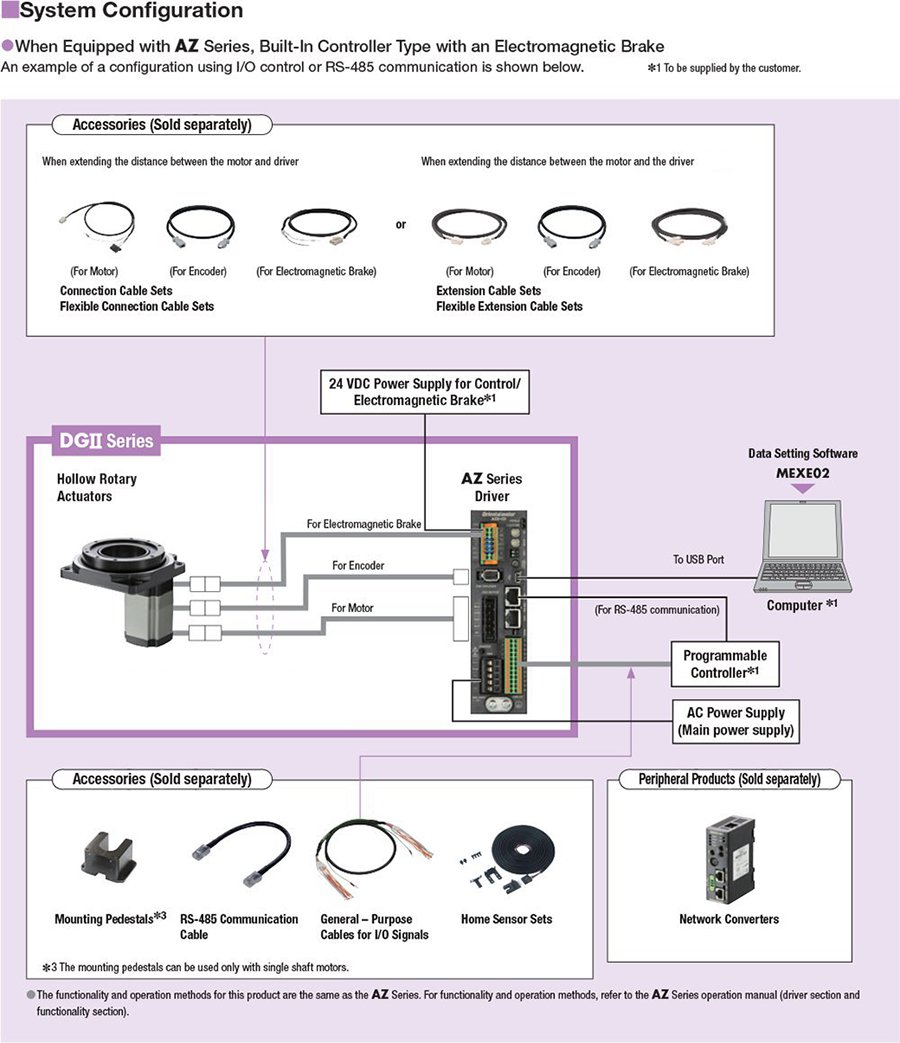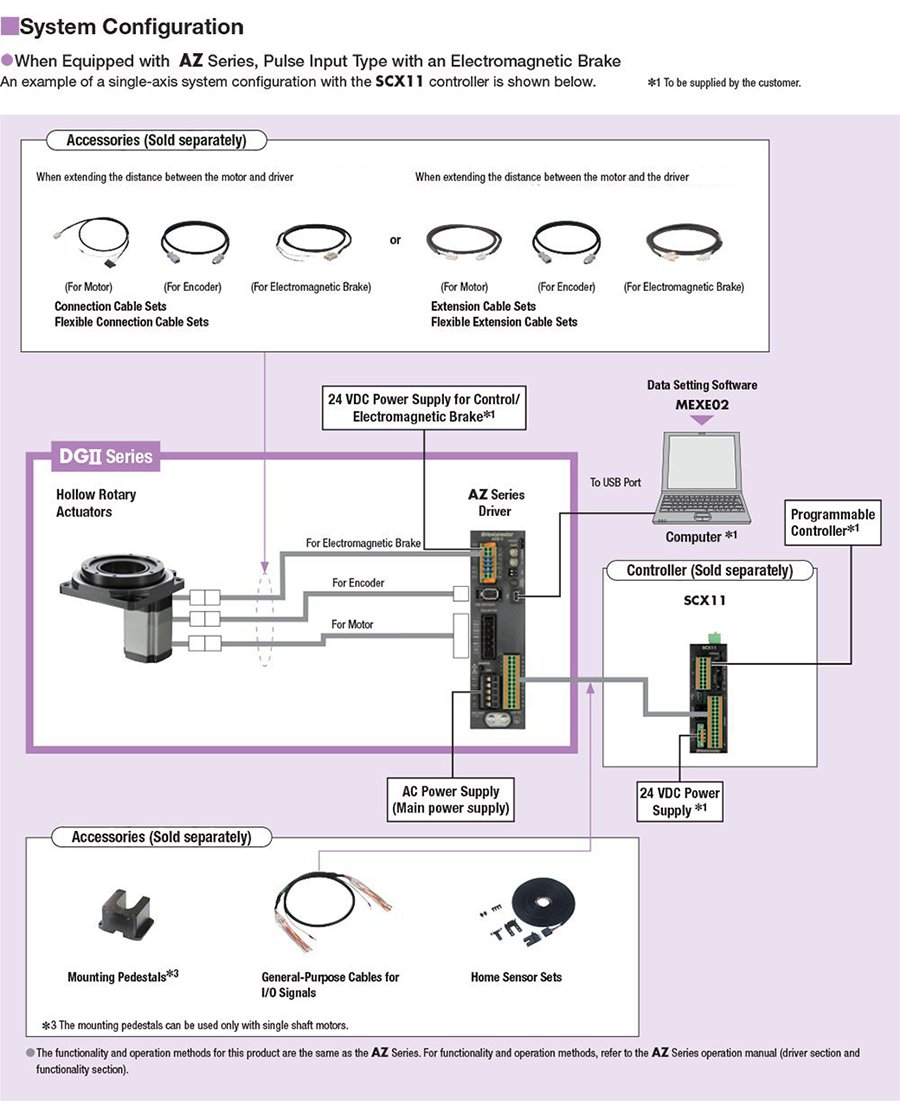 CAD / Manual Search
To locate product CAD and Operator Manuals please search using the product Item Number.
Downloads
Order Literature
Videos
Linear Actuators
Enclosure Fans