Support: 1-800-468-3982 Sales: 1-800-448-6935
Long Life, Compact DC Input Axial Fans - MDE Series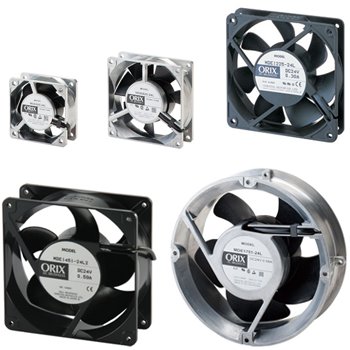 Long Life, Compact DC Input Axial Fans - MDE Series
The MDE Series long-life axial fans utilize a brushless motor and have an expected life of 100,000 hours. A stall alarm comes standard.
Long Life Models - 100,000 hours
12 VDC, 24 VDC or 48 VDC
Stall Alarm
Fan Kits available
Axial Fan Lineup
Frame Size

Power Supply

Options

Max Air Flow

Max Static Pressure

24 VDC

Stall Alarm

Fan Kit

18.7 CFM

0.53 m3/min

0.161 inH20

40.2 Pa

12 VDC

Stall Alarm

Fan Kit

95.3 ~ 137 CFM

2.7 ~ 3.88 m3/min

0.281 ~ 0.485 inH20

70 ~ 120.8 Pa

24 VDC

24 VDC

Stall Alarm

Fan Kit

205 CFM

5.8 m3/min

0.521 inH20

130 Pa

48 VDC

24 VDC

Oblong Type

Fan Kit

226 CFM

6.4 m3/min

0.55 inH20

137 Pa
Long Life DC Axial Fans
Long Life Axial Fans
These axial fans have an expected life of 100,000 hours (about 11 years). They reduce the increase in bearing temperature, inhibit grease deterioration and improve vibration resistance and shock resistance through bearing enlargement. They also increase the life of circuits and couplers and reduce failure rate. They are designed based on the concept of initial failure so that random failure and wear-out failure will not occur, allowing for 100,000 hours of continuous operation or more (survival rate of 90% or higher).
Long-life axial fans have an expected life of 100,000 hours, so the number of cooling fans that need replacing is decreased compared to conventional models.

Ideal for Hard to Service Environments
Equipment that is continuously operational and cannot be stopped
Areas that are hard to enter
Equipment that is delivered to and installed in remote locations
Stall Alarm Type
If a cooling fan is left stopped, the internal temperature increases which has an effect on the equipment. The Stall Alarm type fans output an alarm when the fan stops. This allows quick detection of defective stops to allow the cooling fan to be replaced.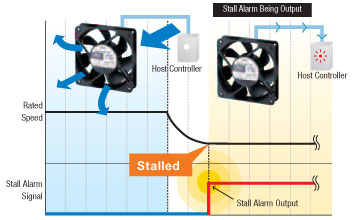 Fan Kits Available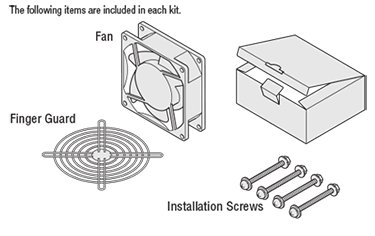 Thermostat Available for Energy Saving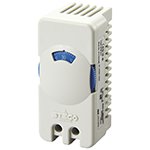 Thermostats (sold separately) make it possible for fans to operate only when cooling is necessary. Thermostats provide energy-saving by automatically stopping fans for example, at night, when the amount of heat generation declines following the load rate's decline in equipment, or in winter, when the ambient temperature drops and forced cooling is not necessary.
Thermostat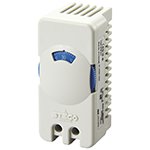 Thermostats automatically perform ON/OFF fan control in accordance with the temperature fluctuation inside the equipment. It helps improve the equipment's "environmental" performance relative to energy savings, noise reduction, etc.
| | |
| --- | --- |
| Type | Item |
| Centigrade (°C) | |
Finger Guards

Finger guards prevent fingers or foreign objects from entering the fan. Finger guards are mounted to the fan frame using bolts.
Fan Model

Finger Guard

MDE625

MDE825

MDE925

MDE1225
MDE1238

MDE1451

MDE1751

MDE1751F
Filters

When using a fan to cool machinery, dust may accumulate inside the machinery after long periods of operation. Depending on the parts involved, this could cause a malfunction. These filters prevent dust from entering the device, keeping the air inside the machinery dust free.
Fan Model

Filter

MDE625

MDE825

MDE925

MDE1225
MDE1238

MDE1451
Screen

Fans are used to cool or ventilate electronic devices that may generate electromagnetic waves. These waves can escape from the fan cooling holes, causing interference to computers and measuring instruments. The screens allow the passage of air but block electromagnetic waves.
The screen is a durable magnetic shield using a stainless mesh fixed to an aluminum frame. Screens are easily attached to the fan using screws.
Fan Model

Screen

MDE625

MDE825

MDE925

MDE1225
MDE1238
System Configuration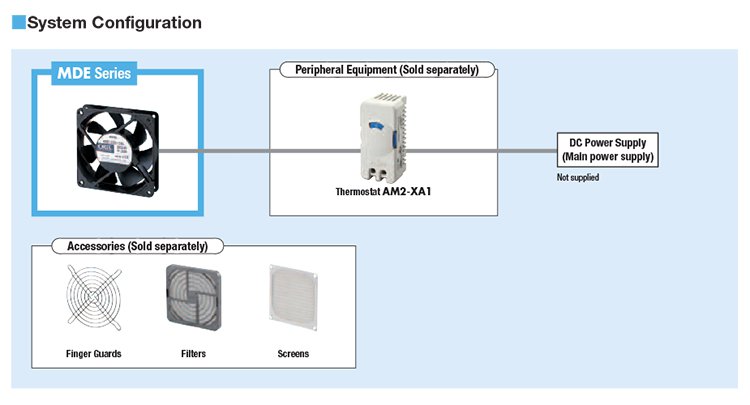 CAD / Manual Search
To locate product CAD and Operator Manuals please search using the product Item Number.
Downloads
Videos
Technical Articles
Reference