Support: 1-800-468-3982 Sales: 1-800-448-6935
Linear Actuators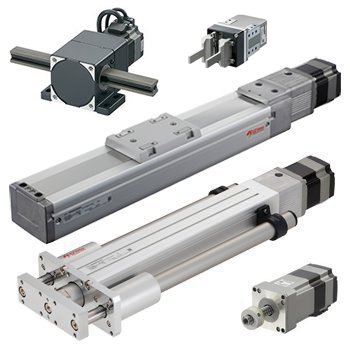 Linear Actuators - Electric Linear Slides, Electric Linear Cylinders, Rack and Pinion Actuators
Motors offer excellent controllability and are therefore used as the drive sources of various automated equipment. In many cases a stepper motor is combined with various mechanical components such as a ball screw, belt and pulley, and rack and pinion to convert the motor rotation to a different type of motion needed to drive the equipment such as a linear actuator. Oriental Motor has various linear actuators consisting of a stepper motor assembled with the necessary mechanical components to meet the various needs of automated equipment.
Learn more about our AlphaStep family of products
Equipped with a motor offering excellent controllability, our linear actuators offer the following advantages over hydraulic and pneumatic actuators:
The actuator is very stable when operated, even at low speeds. It also offers smooth acceleration and deceleration operation.
Motions can be programmed with multiple stopping points.
With a linear actuator using a stepper motor, adjustment of position and speed can be performed easily using data. Setup change is also simple, as you need to do is change the data.
Order Brochure
Linear Actuator Videos
Rotary Actuators
Linear Actuator Technical Articles