Support: 1-800-468-3982 Sales: 1-800-448-6935
Electric Gripper EH Series - AZ Series Equipped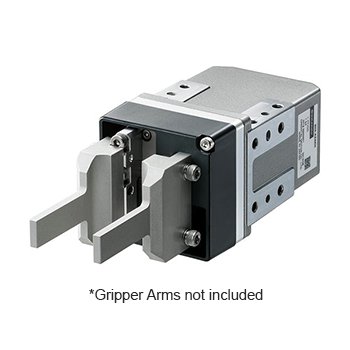 α

STEP

Electric Gripper EH Series - AZ Series Equipped
The EH Series is a electric gripper based on a rack-and-pinion mechanism equipped with an AZ Series motor. Its delicate grip, like that of a human hand, assists in automation and labor-saving.
Provides Delicate, Human-like Grip for Robotic Applications
Built-In battery-free absolute sensor, for constant monitoring of motor position information without an external sensor
High reliability with closed loop control
High efficiency technology reduces motor heat generation and saves energy
AZ Series Driver (DC Input) required*

Mechanical Absolute Encoder
Product Lineup
Actuator

Size

Max. Grip Force
(N)

Stroke
(mm)

Backlash
(mm)

Max. Speed
(mm/s)

Push Speed
(mm/s)

46 mm

25

25
(12.5 each side)

0.1
(each side)

156
(78 each side)

20
(10 each side)
Delicate Grip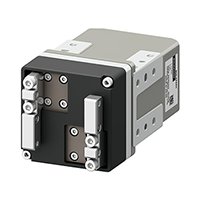 A delicate grip is achieved by fine-tuning the grip force in 1% operating current increments and implementing a slow approach to the load.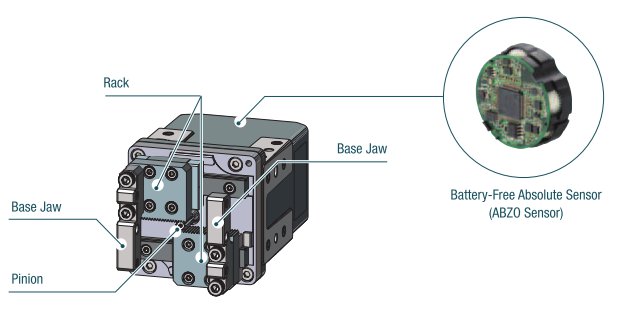 Contributes to a Reduction in Equipment Size and Weight
Small and Lightweight
91 mm × 46 mm × 48.5 mm in size, and weighs 380 g.
The combination of a motor with a frame size of 28 mm and the rack-and-pinion mechanism results in smaller equipment. With a 25 mm stroke available to grip the load.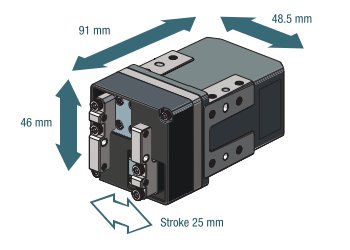 Installation in various directions is possible.
The design is compatible with multi-surface installation, making it ideal for installation on robotic arms, etc.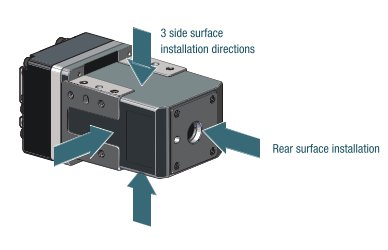 Functions
A delicate grip is achieved by fi ne-tuning the grip force in 1% operating current increments and implementing a slow approach to the load.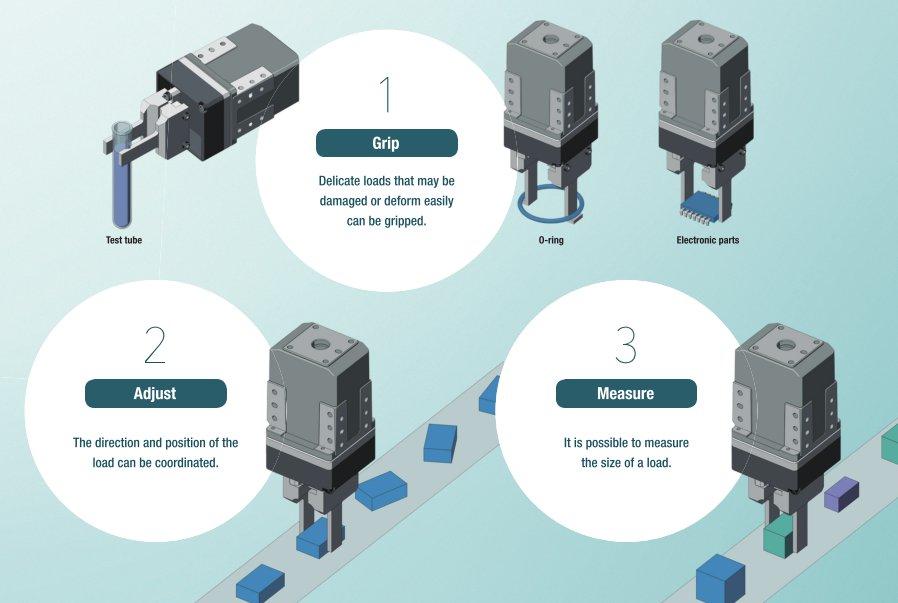 Reliably Grip Loads that may Easily Deform or Break

Easily set the grip force, grip time, and speed according to the object being gripped.
Safely and reliably grip objects that may easily break, such as glass, and objects that easily deform, such as plastic or springs.
Quick Approach, Slow Grip

The motor approaches the load at high speed, then decelerates just before contacting the surface at low speed.


Grips at Low Grip Force, then Gradually Increases the Force
Pushing force and timing can be easily changed.

Grip Force Characteristics during Push-Motion Operation

The grip movement of the electric gripper works by utilizing push-motion operation. The pushing force (grip force) is set according to the running current of the motor.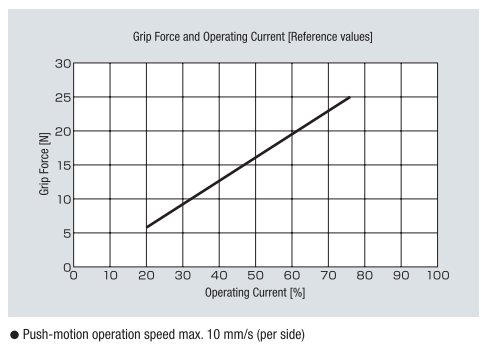 The Direction and Position of the Load can be Coordinated

The minimum travel distance between the pincers - attached to the base jaws - is 0.02 mm. The direction and position of components can be coordinated by gripping them according to their size.


The Size of the Load can be Verified without an External Sensor
The Size and Presence of a Load are Determined within the Operational Range of the Pincers

The operational range of the pincer is confirmed by the output signal (TLC output, AREA output) from the driver, allowing the size and presence of a load to be determined.


Monitor the Gripper Position to Measure Size

The Coordinates Information Monitoring Function in the driver sends data from the gripper to the host PLC, allowing the size of the load to be measured.

Product Types
Eliminate Extra Sensors with a Battery-Free Absolute System
The AlphaStep AZ Series Mechanical Absolute Encoder is available as a leading closed loop, battery free absolute motion solution sold as a Stepper Motor + Driver, Linear Actuator and Rotary Actuator packages allowing for absolute, battery free, advanced performance across a wide range of applications. All AlphaStep AZ Series products offer guaranteed performance are available in Pulse Input or Built-In Controller (Network) Types in AC or DC Input. A DC Input Multi-Axis Controller / Driver is also available to connect up to 4 axes with one unit.
Absolute System Equipped with the αSTEP AZ Series Hybrid Control System
No Home Sensor Required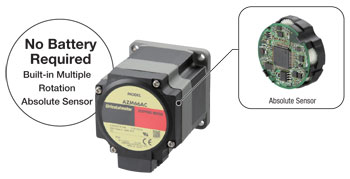 Oriental Motor has developed and patented a compact, low-cost, battery-free mechanical type absolute sensor. The AlphaStep AZ Series is available at affordable prices and can contribute to improved productivity and cost reductions.
Because it is an absolute system, no home sensor is required.

High-Speed Return-to-Home Operation
Because return-to-home is possible without using a home sensor, return-to-home can be performed at high speed without taking the specifications for sensor sensitivity into account, allowing for a shortened machine cycle.
Reduced Cost
Sensor and wiring costs can be reduced, allowing for lower system costs.
Simple Wiring
Wiring is simplified, and the degree of freedom for equipment design is increased.
Not Affected by Sensor Malfunctions
No need to worry about sensor malfunctions, sensor damage or sensor disconnection.
Improved Return-to-Home Accuracy
Home position accuracy is increased because the return-to-home action is performed regardless of any variations in home sensor sensitivity.
Easy Home Position Setting
The home position can be easily set by pressing a switch on the front of the driver, which is saved by the absolute sensor. In addition, home setting is possible with the MEXE02 support software or by using an external input signal.

*Requires AZ Series Driver

Battery-Free
No battery is required because it is a mechanical-type sensor. Because positioning information is managed mechanically by the absolute sensor, the positioning information can be preserved, even if the power turns off, or if the cable between the motor and the driver are disconnected.
Reduced Maintenance
Because there's no battery that needs replacing, maintenance time and costs can be reduced.
Unlimited Driver Installation Possibilities
Because there is no need to secure space for battery replacement, there are no restrictions on the installation location of the driver, improving the flexibility and freedom of the layout design of the control box.
Safe for Overseas Shipping
With normal batteries that self-discharge, care must be taken when the equipment requires a long shipping time, such as when being sent overseas. The absolute sensor does not require a battery, so there is no limit to how long the positioning information is maintained. In addition, there's no need to worry about various safety regulations, which must be taken into consideration when shipping a battery overseas.
Position Holding Even When the Cable Between the Motor and Driver is Detached
Positioning information is stored within the absolute sensor.
AZ Series DC Input Drivers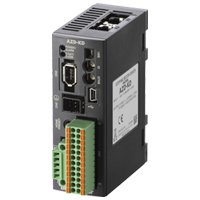 The AlphaStep DC Input Drivers offer 24/48 VDC input voltage, high functionality and closed loop control. There are no external sensors to buy as the motor and driver complete the system. The AlphaStep AZD-K (DC Input) can perform quick positioning operations over a short distance without the need for tuning, while providing smooth performance.
Built-in Protective Functions
Pulse Input, Pulse Input with RS-485 Communications, Built-in Controller (Network), EtherCAT, EtherNet/IP™ or PROFINET Types
24/48 VDC
For use with AlphaStep AZ Series Motors (DC Input)

Multi-Axis Controller / Driver (EtherCAT)
A multi-axis controller that supports EtherCAT communication. Compatible with the CiA402 drive profile. It can be connected to the AZ Series DC input motors and electric actuators.
2-axis, 3-axis and 4-axis driver connections are available.
24/48VDC
Multi-Axis Motor Connection Cables required*

Connection Cables (required)

The motor cable from the motor cannot be connected directly to the driver. When connecting to a driver, use a connection cable.
Use a flexible motor cable if the motor is installed on a moving part or its cable will be flexed.
System Configuration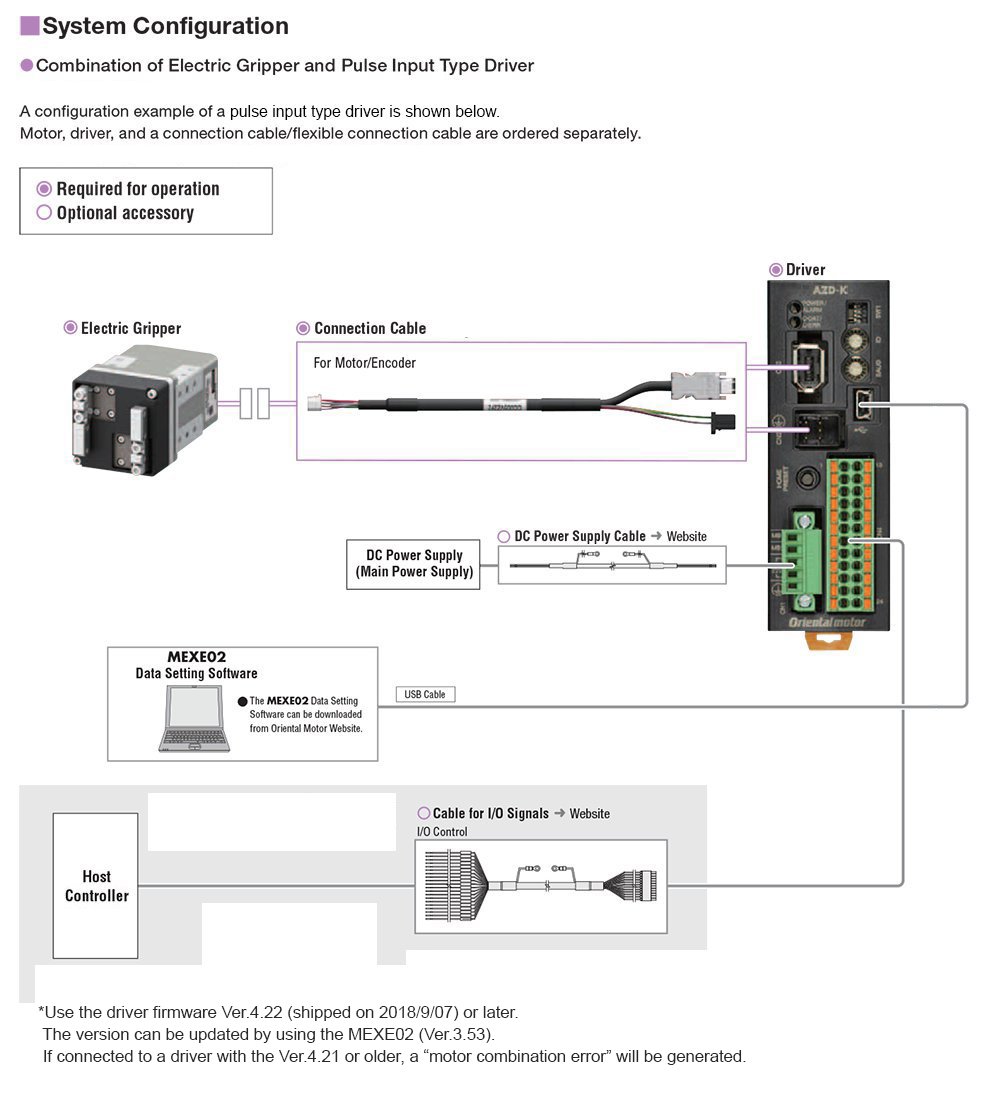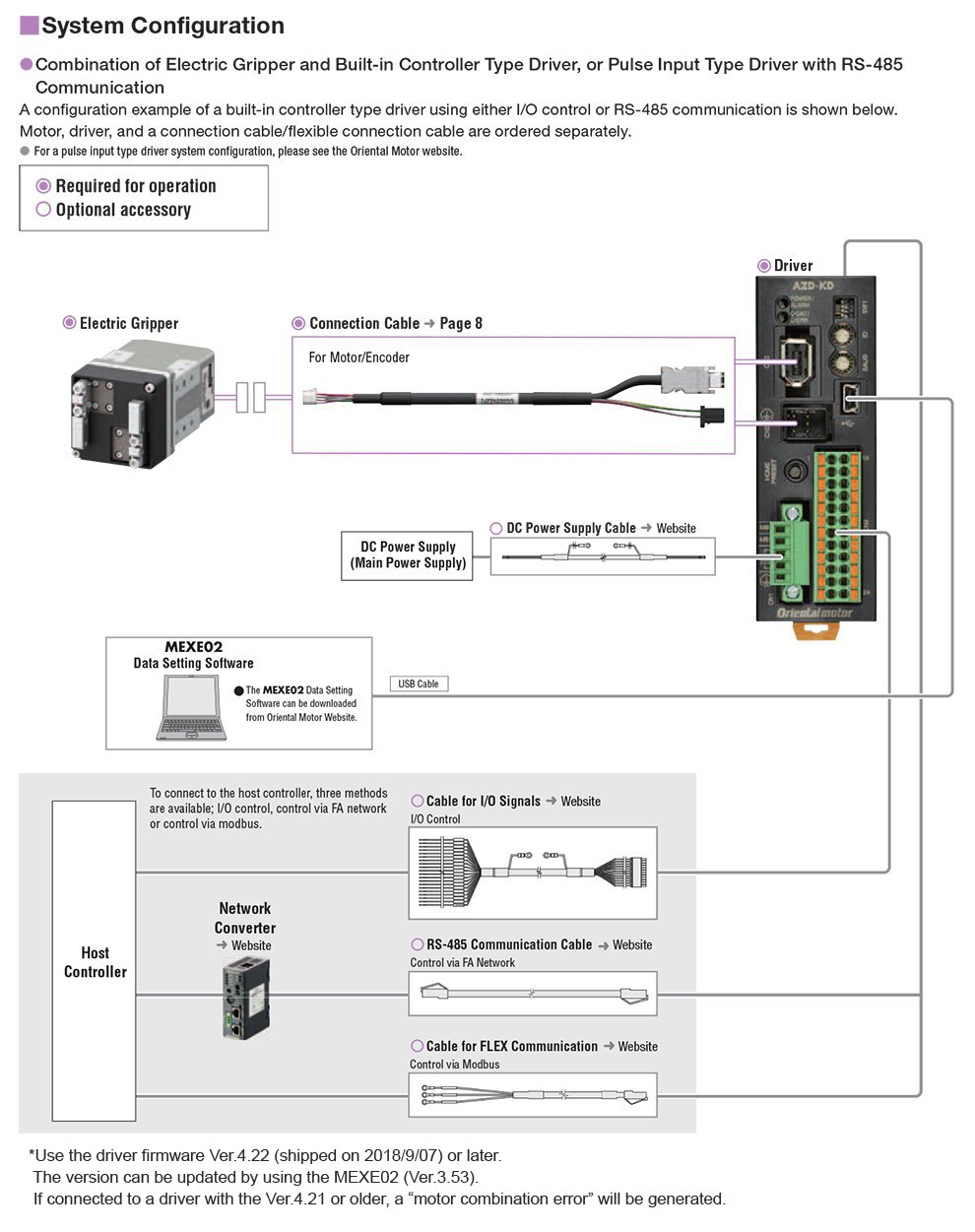 Product Number Code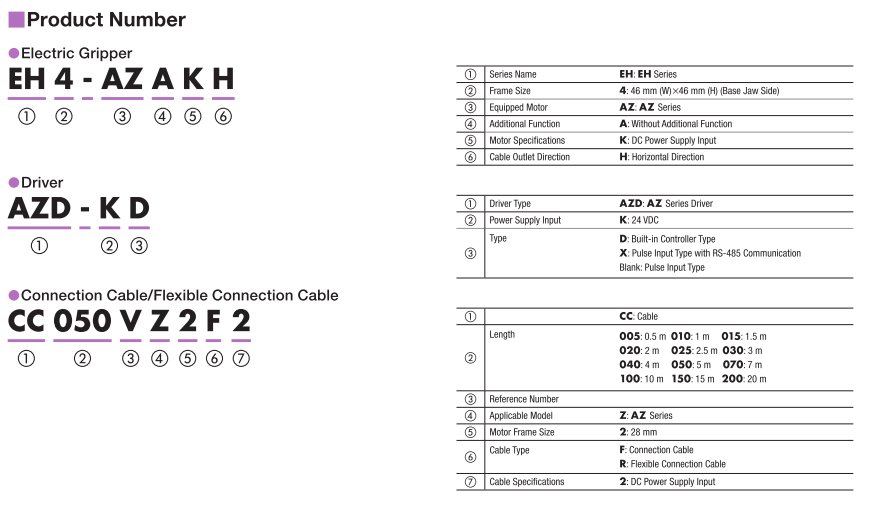 CAD / Manual Search
To locate product CAD and Operator Manuals please search using the product Item Number.
Downloads
Order Literature
EH Series Robotic Gripper with AZ Brochure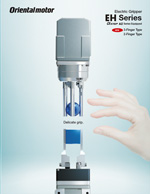 AZ Series Drivers (*required)
Multi-Axis Controller / Driver