Support: 1-800-468-3982 Sales: 1-800-448-6935
Rotary Actuators
Rotary Actuators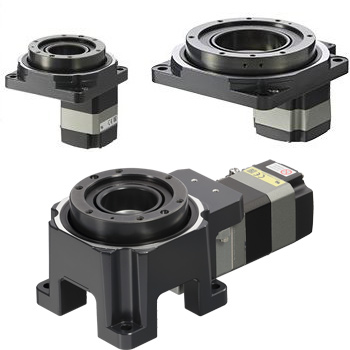 α

STEP

Rotary Actuators
The DGII Series is a line of integrated product that combines a hollow rotary table with an AlphaStep closed loop stepper motor. The rotary actuator has an internal speed reduction mechanism, which makes high power driving possible.
The rotary actuators achieve both high power and high rigidity by adopting the cross-roller bearing on the hollow output table.
Learn more about our AlphaStep family of products
Rotary actuators provide a simplified design to reduce time and cost designing and installing the necessary parts.
60 mm (2.36 in.) up to 200 mm (7.87 inch.) Frame Sizes
Vertical or Horizontal Motor Mount Types
Electromagnetic Brake options
AC or DC Input Drivers
Hollow Rotary Actuators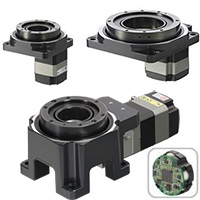 The DGII Series is a line of of products that combine a high rigidity hollow rotary table with an AlphaStep closed loop stepper motor and driver package. It retains the ease of use of a stepper motor, while also allowing for highly accurate positioning of large inertia loads.
Integrated actuator and stepper motor makes design easier
Vertical or Horizontal Motor Mount Types
Large-diameter hollow output table
AC or DC Input
Drivers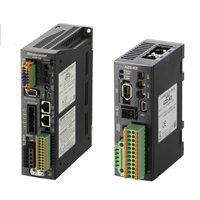 Stepper motor drivers convert pulse signals from the controller into motor motion to achieve precise positioning.
AC or DC Input
Driver Types:

Pulse Input
Pulse Input with RS-485 Communications
Built-in Controller
EtherNet/IP™ and EtherCAT Compatible versions
EtherNet/IP™ is a trademark of ODVA
Controllers / Network Gateways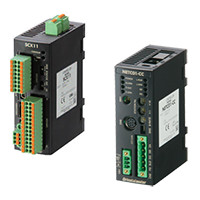 Controllers and Network Gateways for use with motion control systems.
Controllers for use with Pulse Input Drivers
Network Converters/Gateways (RS-485 Communication)

EtherCat
CC-Link
MECHATROLINK
Rotary Actuators
Hollow Rotary Actuators
The gear-reduction mechanism employs precision gears along with a proprietary adjustment mechanism that eliminates backlash. The repetitive positioning accuracy from a single direction is ±15 sec., while lost motion in a positioning operation from two directions is 2 arc minutes. These characteristics make the DGII series the ideal choice for applications in which accurate positioning is a must.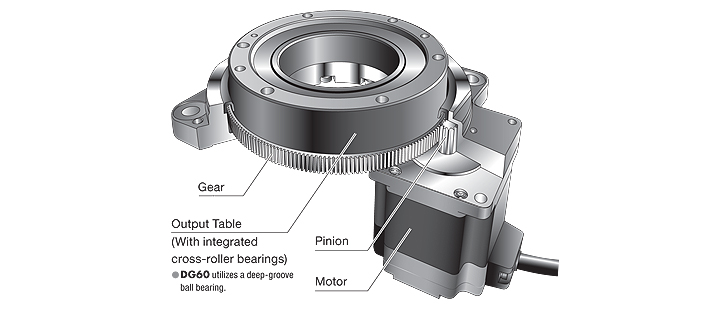 Application Examples
| | | |
| --- | --- | --- |
| Applications subject to changing load inertia | Applications where a moment load is applied | Optical applications using the hollow hole |
| | | |
| High accuracy positioning applications | High accuracy positioning applications using the hollow hole | Air absorption applications using the hollow hole |
| | | |
Hybrid Control System
AlphaStep products are stepper motor based hybrid motors with a unique hybrid control system combining the benefits of "open loop control" and "closed loop control".
The position of the motor is always monitored, and then the driver automatically switches between 2 types of control depending on the situation.
Normally Operates in Open Loop Control for the Same Ease of Use as a Stepper Motor
High Response
By utilizing the high responsiveness of the stepper motor, moving a short distance for a short time is possible. The motors can execute commands without lag.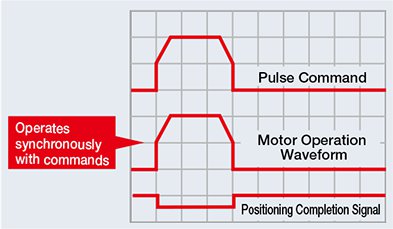 Holding the Stop Position without Hunting
During positioning, the motor stops with its own holding force without hunting. Because of this, it is ideal for applications where the low rigidity of the mechanism requires absence of vibration upon stopping.
Tuning-Free
Because it is normally operated with open loop control, positioning is still possible without gain adjustment even when the load fluctuates due to the use of a belt mechanism, cam or chain drive, etc.
Switches to Closed Loop Control during Overload for More Reliable Operation like a Servo Motor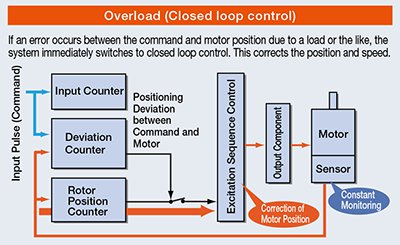 Continues Operation Even with Sudden Load Fluctuation and Sudden Acceleration
It operates synchronously with commands using open loop control during normal conditions. In an overload condition, it switches immediately to closed loop control to correct the position.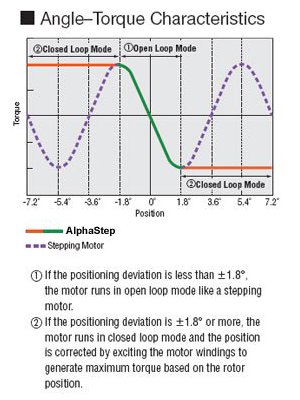 Alarm Signal Output in Case of Abnormality
If an overload is applied continuously, an alarm signal is output. When the positioning is complete, and END signal is output. This ensures the same level of reliability as a servo motor.
Order Brochure
Videos
Technical Articles