Support: 1-800-468-3982 Sales: 1-800-448-6935
Cooling Fans
Cooling Fans - Thermal Management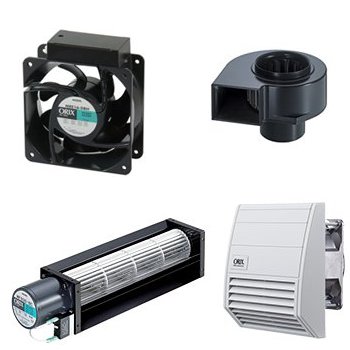 Cooling Fans - Thermal Management
Today's comfortable life and society is supported by advanced control systems, which may present many heat sources. To operate these devices 24 hours a day, 365 days a year, the devices require appropriate heat designs and heat measures.
Oriental Motor offers a wide range of cooling fan products centered on thermal management to meet these requirements.
Axial fans for ventilation and cooling
Centrifugal fans / blowers for cooling, drying and high static pressure
Cross flow fans for wide uniform airflow
Enclosure fans for ventilation and cooling inside a control box
Thermostats to automatically turn on and off cooling devices.
Applications and Classifications
The features of cooling fans differ according to their air-blowing system.
Ventilation, Cooling, Drying and Suction
Easy Installation and Measures for Preventing Finger, Objects, Water Droplets and Dust from Entering
Automatically Turning the Cooling Fan ON/OFF
Automatically Turning it ON/OFF with a Set Temperature

The cooling Fan is automatically turned ON or OFF when the temperature inside the equipment reaches the temperature switch setting.

*Example of combination with cooling fan
Videos
Technical Articles