Support: 1-800-468-3982 Sales: 1-800-448-6935
Network Products
> EtherNet/IP Compatible Drivers > AZ Series EtherCAT Compatible Drivers
AZ Series EtherNet/IP™ Compatible Drivers (AC Input)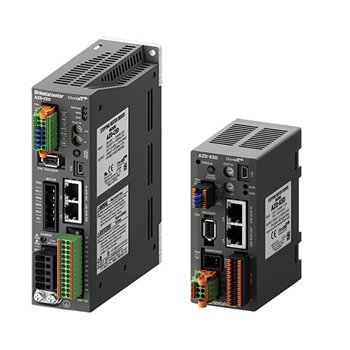 α

STEP

AZ Series EtherCAT Compatible Drivers
AZ Series Stored Data drivers now offer EtherCAT communications for a battery-free, absolute mechanical sensor motor and driver solution.
For use with all Oriental Motor AZ Series motors and linear & rotary actuators equipped with the AZ Series.
Built-in Protective Functions
Monitoring Functions
Support Software for Paramater Setting (free download)
24/48 VDC, Single-Phase 100-120 VAC or Single-Phase/Three-Phase 200-240 VAC
For use with AZ Series Motors & Products

Product Lineup
Item

Network

Power Supply

Control Power Supply

EtherCAT
Compatible Driver


EtherCAT

24 VDC

EtherCAT
Compatible Driver


2-Axis EtherCAT
Controller / Driver

EtherCAT

24/48 VDC

3-Axis EtherCAT
Controller / Driver

24/48 VDC

4-axis EtherCAT
Controller / Driver

24/48 VDC
AlphaStep Performance
What is the Output of αSTEP?
"Rated Output" is not listed because AlphaStep has no "rated speed". Refer to the graph below to compare rate torque of the AlphaStep to Watts of of servo motor's rated output torque.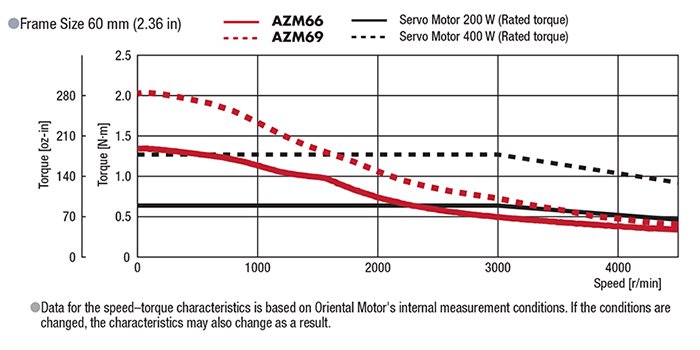 What is the Stopping Accuracy of αSTEP?
The stopping accuracy of a typical AlphaStep is ±0.05° (under no load), which is equivalent to that of servo motors. The graphs below show the actual measured stopping accuracies when an AlphaStep and an AC servo motor were rotated once.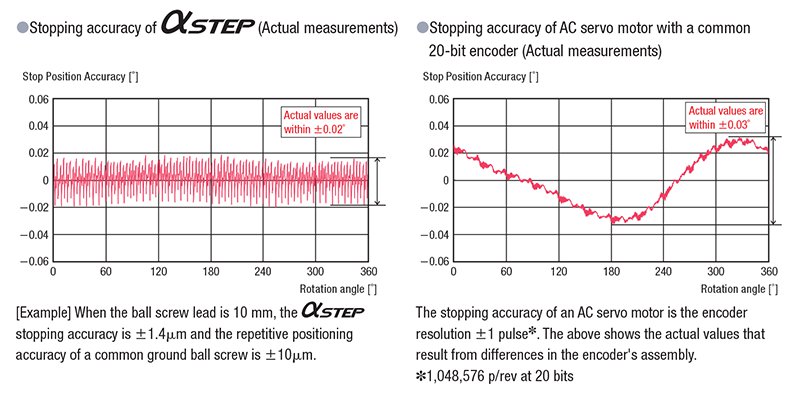 Advanced Technology at Affordable Prices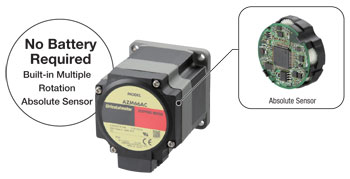 Oriental Motor has developed and patented a compact, low-cost, battery-free mechanical type absolute sensor. The AlphaStep AZ Series is available at affordable prices and can contribute to improved productivity and cost reductions.
Mechanical-Type Encoder (No Battery Required)
A mechanical sensor composed of multiple gears is employed. Positioning information is detected by recognizing the angle of the individual gears. As a result, it does not require a battery.
Multiple-Rotation Absolute System*
Absolute position detection is possible with ±900 rotations (1800 rotations) of the motor shaft from the home position.
No External Sensors Required
Positional information is managed mechanically. External sensors such as home sensor and the limit sensor are not needed.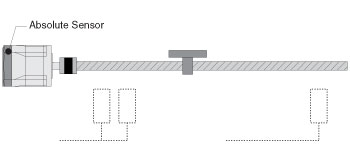 Reduced Cost
Sensor costs and wiring costs can be reduced, allowing for lower system costs.
Simple Wiring
Wiring is simplified and the degree of freedom for equipment design is increased.
Not Affected by Sensor Malfunctions
There is no concern about sensor malfunctions (when operating in environments filled with oil mist or filled with metal pieces due to metal processing), sensor failures or sensor wire disconnections.
Improved Return-to-Home Accuracy
Home position accuracy is increase because the return-to-home operation is performed regardless of any variations in home sensor sensitivity.
Shortened Reset Time - High Speed Return-to-Home
Because return-to-home is possible without an external sensor, return-to-home can be performed at high speed without taking the sensor sensitivity into account, allowing for a shortened machine cycle.

Home Setting Method
The home position can be easily set by pressing a switch on the drivers surface, which is saved by the Mechanical Absolute Encoder. In addition, home setting is possible with the MEXE02 data setting software or external input signal.
Home position is easy to adjust by moving the motor to a desired position manually.

No Battery Required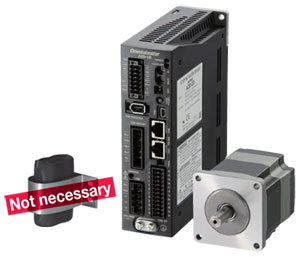 No battery is required thanks to a mechanical-type sensor. Because positioning information is managed mechanically by the Mechanical Absolute Encoder, the positioning information can be preserved, even if the power turns off, or the cable between the motor and the driver is disconnected.
Reduced Maintenance
Because there is no battery that needs replacement, maintenance time and costs can be reduced.
Unlimited Driver Installation Possibilities
Because there is no need to secure space for battery replacement, there are no restrictions on the installation location of the driver, improving the flexibility and freedom of the layout design of the control box.
Safe for Overseas Shipping
Normal batteries will self-discharge, so care must be taken when the equipment requires a long shipping time, such as when being sent overseas. The Mechanical Absolute Encoder does not require a battery, so there is no limit to how long the positioning information is maintained. In addition, there is no need to worry about various safety regulations, which must be taken into consideration when shipping a battery overseas.
Position Holding Even when the Cable between the Motor and Driver is Detached
Positioning information is stored within the Mechanical Absolute Encoder.
*Because the positioning information is stored in the Mechanical Absolute Encoder, the home position must be reset if the motor is replaced.

AZ Series Family of Motion Control with EtherCAT
Easily control the AZ Series by directly connecting to the EtherCAT master device using a single EtherCAT communications cable. This allows for quick and simple wiring.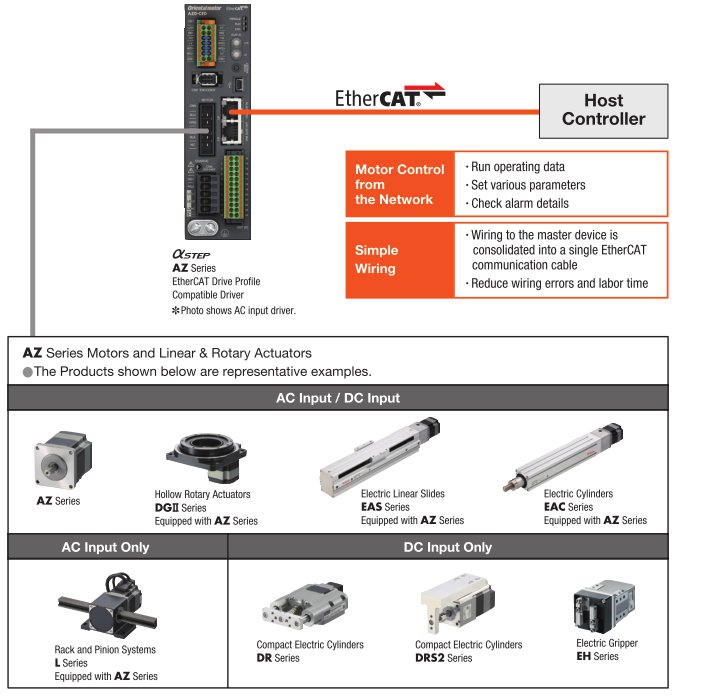 ESI File
An ESI file has been prepared to allow EtherCAT compatible products to be used more easily.
AZ Series Products
Eliminate Extra Sensors with a Battery-Free Absolute System
The AlphaStep AZ Series Mechanical Absolute Encoder is available as a leading closed loop, battery free absolute motion solution sold as a Stepper Motor + Driver or Linear Actuator + Driver allowing for absolute, battery free, advanced performance across a wide range of applications.
Functional Safety - STO (Safe Torque Off) Function (AC Input Drivers)

SIL3, PL-e Functional Safety* Certification
*Incorporates the STO (Safe Torque Off) function
Applicable Standard

Safety Level

IEC 61800-5-2, EN 61800-5-2

Functional Safety

IEC 61508-1, EN 61508-1

IEC 61508-2, EN 61508-2

IEC 62061, EN 62061

ISO 13849-1:2015, EN ISO 13849-1:2015

IEC 61800-5-1, EN 61800-5-1

Electrical Safety

IEC 61000-6-7, EN 61000-6-7

EMC
Applicable Products
Power Supply Input

Type

AC Input

Built-in Controller

Pulse Input with RS-485 Communications

Pulse Input
Drivers with Built-in Safety Functions Simplify Components
A driver with built-in safety function can prevent unintended operation, which eliminates the need for contractors.
This allows for reduced equipment wiring and saved space.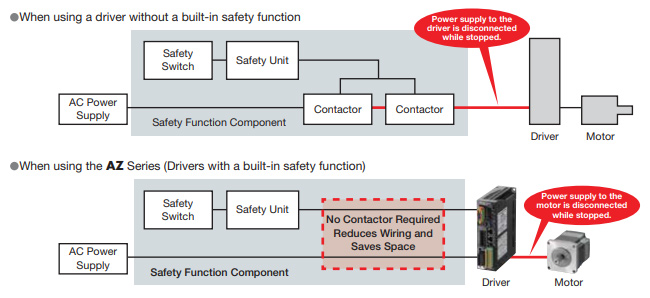 The STO Function Prevents Unintended Start of the Motor While it is Stopped
Certified products have an STO (Safe Torque Off) function, which disconnects the supply of power to the motors.*
By disconnecting the power supply to the motor, the risk posed by dangerous movement of the equipment's moving parts is reduced.
*Do not use during operation.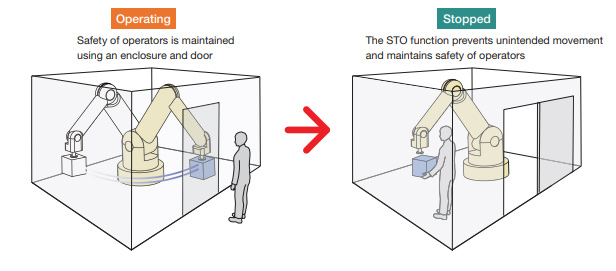 AZ Series Closed Loop Stepper Motors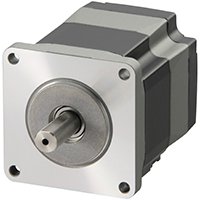 The AZ Series offers high efficiency, low vibration and incorporates our newly developed Mechanical Absolute Encoder for absolute-type positioning without battery back-up or external sensors to buy. Closed loop performance without hunting or gain tuning. Available with a built-in controller or pulse input driver which substantially reduces heat generation from the motor through the use of high-efficiency technology. Requires AZ Series Driver.
Battery-Free, Mechanical Absolute Encoder
Closed Loop Performance, No Hunting or Gain Tuning
Wide Range of Gear Types for Inertia Matching & Higher Torque
Electromagnetic Brake Type Available
DIN Rail Mounting Plate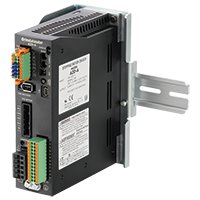 Use to mount the driver on DIN rail.
EtherCAT Support Software

Support Software and ESI file for EtherNet/IP.
Driver Cables (Built-in Controller Type)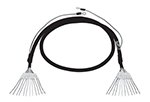 It is a general-purpose multi-core cable convenient for connection between the driver and host controller.
| | |
| --- | --- |
| Item | Length |
| | 3.3 ft. (1 m) |
| | 6.6 ft. (2 m) |
24 VDC Control Power Cable

24 VDC power supply cable for driver
| | |
| --- | --- |
| Item | Length |
| | 1.67 ft. (0.5 m) |
| | 3.3 ft. (1 m) |
| | 4.9 ft. (1.5 m) |
| | 6.6 ft. (2 m) |
| | 8.2 ft. (2.5 m) |
Regeneration Unit

During vertical driver (gravitational operation) or suddent start/stop in high inertia, an external force causes the motor to rotate and funciton as a power generator. When the regenerative power exceeds the driver's regenerative power absorption capacity, it may cause damage to the motor. In such a case, the regeneration unit is connected to the driver to convert regenerative energy into thermal energy for dissipation.
System Configuration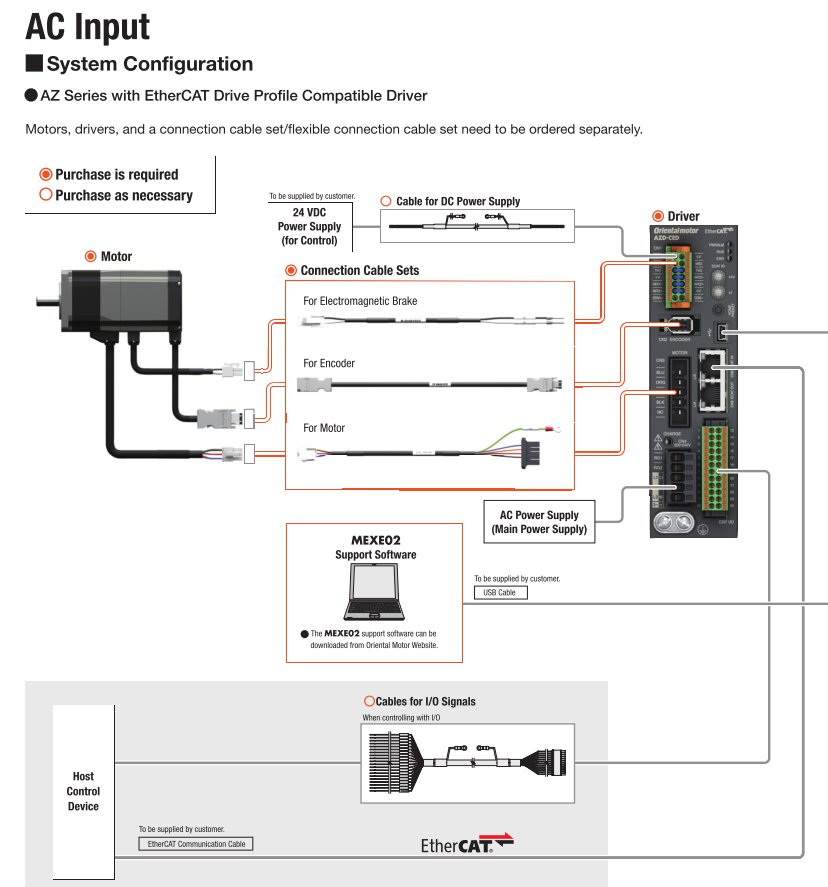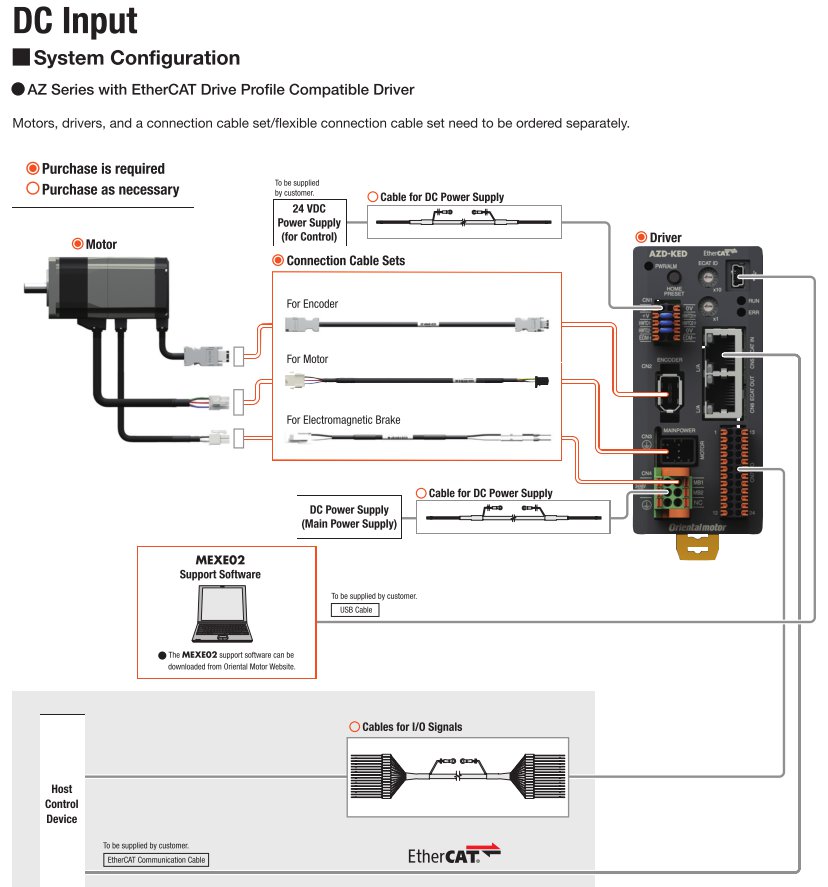 CAD / Manual Search
To locate product CAD and Operator Manuals please search using the product Item Number.
Videos
Stepper Motors
Electric Linear Actuators / Linear Slides
Electric Linear Actuators / Cylinders
Rack and Pinion Systems
Rotary Actuators